35% of the people in Washington DC that are supposed to stop these crimes are raking in stock market profits FROM THESE CRIMES!
Grid Giant Alstom to Pay Record $772M Fine, Plead Guilty to Bribery
Another grid giant punished for bribing officials for overseas business—but GE acquisition shouldn't be affected
French trains and power grid giant Alstom has pleaded guilty to charges that it spent tens of millions of dollars in bribes to win billions of dollars in business around the globe, and has agreed to pay a $772 million fine to settle the case with the U.S. Department of Justice. But according to Alstom, it won't have an effect on its $15.4 billion sale of its power business to General Electric.
Monday's announcement marks the end of a years-long investigation into a bribery scheme that spanned decades and continents, U.S. Deputy Attorney General James M. Cole said in a statement. Alstom used "consultants," with code names such as "Mr. Paris" and "Quiet Man," to pay more than $75 million to win $4 billion in projects in Indonesia, Saudi Arabia, Egypt, Taiwan, and the Bahamas, according to the plea.
Alstom announced Monday that it has ceased hiring such "sales consultants" and is committed to meeting the terms of the deferred prosecution agreements that its two U.S. subsidiaries, Alstom Power Inc. and Alstom Grid Inc., have signed with the Justice Department. Under those agreements, both subsidiaries will have to meet a number of conditions over the next three years.
"There were a number of problems in the past and we deeply regret that," Alstom CEO Patrick Kron said in a Monday statement. "This resolution with the DOJ allows Alstom to put this issue behind us and to continue our efforts to ensure that business is conducted in a responsible way."
Importantly, the Justice Department agreed that none of the fine could be passed on to GE as part of its purchase of Alstom's energy business, the company reported. In June, GE beat out Siemens and Mitsubishi with its offer to buy Alstom's power turbine and grid business units for about €12.4 billion ($15.6 billion), and set up joint ventures in grid, nuclear and renewable energy, leaving Alstom to concentrate on its trains and transportation business. French officials approved the deal last month, albeit with a number of conditions, including the French government buying a stake of up to 20 percent of the company from Bouygues, the conglomerate that now owns 29 percent of the company
Monday's fine is one of the biggest ever levied by U.S. officials in a case of its kind -- but it's not the biggest. In 2008, German engineering and power grid giant Siemens agreed to pay a record $1.6 billion fine to settle similar charges involving bribes paid to win business around the globe. But in that case, Siemens pleaded guilty to accounting violations, rather than bribery violations, which would have barred it from doing business in the United States. And in 2010, Swiss grid giant ABB paid $53 million in fines to settle a case alleging bribery to win business in Mexico
Four Alstom executives were also charged in the case, and three of them have pleaded guilty to conspiracy to violate the Foreign Corrupt Practices Act (FCPA) -- Frederic Pierucci, former VP of global boiler sales, and David Rothschild and William Pomponi, former vice presidents of regional sales for Alstom Power. The fourth, Lawrence Hoskins, Alstom's former senior vice president for the Asia region, is pending trial next year. Alstom is also facing investigations in the U.K. and Brazil, and a member of Indonesia's parliament has been jailed for accepting bribes from the company.
Panasonic fined $280 mn by US in bribery scheme
Panasonic will pay $280 million in fines to settle charges over bribes to an employee at government-owned airline to win business for its aircraft electronics unit, US authorities announced Monday.
Panasonic Avionics Corporation, a subsidiary of the Japanese electronics giant, paid $875,000 to install a government official who served as a "consultant" while the government airline was negotiating business with the company, the US Justice Department said.
The payments were made between 2008 and 2014 at a time when PAC was negotiating two agreements with the airline worth more than $700 million, according to the Securities and Exchange Commission, which called the payments "a bribery scheme."
The SEC did not disclose the name of the airline, but said the bribery occurred in the Middle East.
The government official "provided little or no services" in exchange for the money, which were routed through an "unrelated third-party vendor to conceal the payments," the SEC said.
However, the official assisted PAC's efforts to win business, providing confidential information and "maintaining the relationship with the government airline."
The Justice Department fined Panasonic Avionics $137.4 million for charges of the Foreign Corrupt Practices Act and entered into a deferred prosecution agreement with the company.
The SEC, fined parent company Panasonic Corp. $143 million for FCPA violations and accounting fraud.
The SEC also sanctioned PAC for poor internal controls and for not keeping accurate records of payments to consultants and sales agents used to solicit business throughout the Middle East and Africa.
"Investors rightfully expect that the companies they invest in will not engage in bribery or fraud," said Antonia Chion, associate director of the SEC's enforcement division.
"Issuers must implement effective controls for the selection and engagement of consultants and agents to ensure compliance with anti-bribery statutes."
PAC said it has taken steps to resolve the issues at the company in the wake of the probe, including hiring new leadership, including a new chief exeuctive, chief compliance officer and chief financial officer and enhancing corporate controls over third-party agents and consultants.
"We are pleased to have resolved these investigations; we have taken extensive steps over the past few years to strengthen Panasonic Avionics' compliance programs and internal controls," said Hideo Nakano, chief of Panasonic Avionics.
Tesla's new batteries may be harder on the environment than you think
Tesla's announcement in April that it would be moving into commercial and residential energy storage was met with almost unanimous applause. The reality is not so clear-cut
Tesla Motors made waves in April when it announced the launch of Tesla Energy, a new business unit that will provide lithium-ion batteries to homes and businesses. Tesla CEO Elon Musk described the potential of a world entirely powered by batteries charged with renewable energy. The media lapped it up, as did consumers, who preordered Tesla's home battery solution, Powerwall, in droves.
But energy storage experts remain unconvinced. Even Panasonic – supplier of the lithium-ion cells that form the foundation of Tesla's batteries, and partner on the company's forthcoming battery factory – calls Musk's claims hyperbole.
"We are at the very beginning in energy storage in general," says Phil Hermann, chief energy engineer at Panasonic Eco Solutions. "Most of the projects currently going on are either demo projects or learning experiences for the utilities. There is very little direct commercial stuff going on.
"Elon Musk is out there saying you can do things now that the rest of us are hearing and going, 'really?' We wish we could but it's not really possible yet."
It also solves another Tesla problem. The majority of the company's automotive customers want to be able to rapidly charge their cars at home, but the systems that enable that sort of charging are a major energy suck. Utilities don't like them, and in many cases won't allow them. Solution? Charge a Powerwall, then run your electric-vehicle charger off the stored energy.
"It's a smart business move, and it might be a commercial success, but as a scientist I don't think what Tesla's proposing is a good solution," says Tom Milnes, energy storage expert and CEO of Open Water Power, a Massachusetts Institute of Technology spin-off commercializing a fuel cell for use in naval drones. It's not a Tesla competitor.
Lithium-ion batteries just won't store the amount of energy required to be as useful as Musk promises, says Milnes: "Personally I think the Tesla factory producing hundreds of thousands more lithium-ion batteries is really short sighted because those batteries are just never going to hold the amount of energy we need them to."
John Jung, CEO of Greensmith, a supplier of turnkey energy storage systems, says this application is the most common in energy storage, with the majority of large-scale customers being more interested in reliability and cost reductions. The ability to make renewable energy more viable is typically a secondary benefit. "The renewables aspect is still incredibly important, though," he says. "Even if it's a secondary thing, it can make a huge difference in terms of a project being [return on investment] positive or negative."
But even as Tesla's batteries promise to reduce tailpipe emissions, more direct environmental concerns surround the current boom in lithium-ion batteries. As hundreds of thousands more of these batteries hit the market, the problems that come with lithium mining, battery lifecycles and recycling loom large.
In a 2013 report, the U.S. Environmental Protection Agency's Design for the Environment program concluded that batteries using nickel and cobalt, like lithium-ion batteries, have the "highest potential for environmental impacts". It cited negative consequences like mining, global warming, environmental pollution and human health impacts.
While Tesla declines to comment on the particular chemistry it uses, representative Khobi Brooklyn did list nickel as one of the components of the company's batteries, and lithium is also obviously a component.
That means exponentially more batteries entering the environment over the next few years. Although some utilities and corporate customers are concerned about the ecological impact of large-scale energy storage systems, Jung says there's still work to be done. "This is a market that's going to be measured in the trillions really soon – that's a lot of components, a lot of batteries, inverters and converters to deal with."
According to Tesla's Brooklyn, the company will conduct onsite recycling of lithium ion batteries at the Gigafactory, capturing nickel, aluminum and lithium for use in new battery cells. And Panasonic's Herman says he expects to ultimately see recycling rates at close to 100% for lithium-ion batteries.
"There's an economic benefit to do it," Herman says. "It's not like we're left with a heap of nothing at the end – the recyclable content of lithium-ion batteries is valuable."
Since this offense is within the scope of the newly enacted 18 U.S.C. 201 and 18 U.S.C. 203, relating to bribery and conflicts of interest, respectively, section 216 is no longer necessary. 2 See section 2 of Public Law 87-849.
The Buffalo Billion Fraud and Bribery Scheme: Corruption and Pay-to-Play, A Symbol of Everything They're Doing
When New York's Democrat Governor Andrew Cuomo gushed over SolarCity's new solar panel factory in Buffalo, New York, the audience, likely, didn't grasp the recently-revealed meaning of his words: "It is such a metaphor—a symbol of everything we're doing."

 

The 1.2 million square foot building, being built by the state of New York on the site of a former steel plant, is looking more and more like another political promise of help for one of the poorest cities in the state that ends up enriching cronies without ever achieving any potential for the people.

Yes, it is a symbol of everything they're doing.

Previously, during her first senatorial bid, Hillary Clinton also promised jobs to the economically depressed region of the state of New York—200,000 to be exact. Citing a report from the Washington Post, CBSNews states: "Jobs data show that job growth stagnated in Upstate New York during her eight years in office, the report said, and manufacturing jobs dropped by nearly a quarter." The Post's extensive story reveals that jobs never materialized—despite "initial glowing headlines." It claims: "Clinton's self-styled role as economic promoter" actually "involved loyal campaign contributors who also supported the Clinton Foundation." Through federal grants and legislation, she helped steer money to programs, companies, and initiatives that benefitted the donors but failed to reverse the economic decline of the region.

Now, new corruption charges reveal the same pay-to-play model linked to Cuomo's upstate "Buffalo Billion" economic revitalization plan—and the promised jobs, also, look they will never materialize.

Back on January 5, 2012, Cuomo announced a $1 billion five-year economic development pledge for Buffalo. It was to be the governor's banner economic initiative with the SolarCity factory as the cornerstone and a pledge of 1,460 direct factory jobs. Other companies, including IBM and a Japanese clean-energy company were also lined up.

With the state-of-the-art solar panel factory ready for equipment to be installed, the wisdom of the entire program is being scrutinized—and is coming up short.

First, on September 22, two of Cuomo's closest aides—along with several others—were charged in corruption and fraud cases involving state contracts worth hundreds of millions of dollars. Addressing the press at his Manhattan office, U.S. Attorney Preet Bharara asserted: "that 'pervasive corruption and fraud' infested one of the governor's signature economic development programs. Companies got rich, and the public got bamboozled," reports The Observer. Bharara described the bid-rigging and bribery arrangement: "Behind the scenes they were cynically rigging the whole process so that the contracts would go to handpicked 'friends of the administration'—'friends' being a euphemism for large donors. Through rigged bids, state contracts worth billions of dollars in public development monies, meant to revitalize and renew upstate New York, were instead just another way to corruptly award cronies who were willing to pay to play."

The 79-page criminal complaint notes that campaign contributions to Cuomo poured in from people connected to the bribe-paying companies as soon as those businesses began pursuing state projects.

One of the companies that received the lucrative contracts was LPCiminelli—run by "Cuomo mega-donor" Louis Ciminelli. He allegedly offered bribes to Cuomo confidante Todd Howe—who has admitted to pocketing hundreds of thousands of dollars from developers to rig bids on multimillion-dollar state contracts linked to Buffalo Billion projects.

Ciminelli received the $750 million contract to build the SolarCity plant. The Buffalo News cites Bharara as saying: "the state's bidding process for the factory being built for SolarCity at RiverBend in South Buffalo turned into a 'criminal' enterprise that favored LPCiminelli, where company executives were given inside information about how the deal was to be awarded."

Part of Cuomo's deal with SolarCity—in which the state owns the building and equipment with SolarCity leasing it under a 10-year deal—requires the company to meet a timetable of job-creation quotas or pay hefty penalties. Even before the building was complete, however, the company slashed its job commitment from 1460 to 500. According to the Investigative Post, SolarCity claims it will still employ the original number, but due to automation, the majority of them will not be at the Buffalo plant. With the state's $750 million investment, that works out to $1.5 million per manufacturing job. In a press release, Cuomo promised 1460 "direct manufacturing jobs at the new facility."

 

Even the 500 jobs will only materialize if the plant actually starts production—currently slated for June 2017. SolarCity's future is, as Crain's New York Business puts it: "uncertain."

Amid the company's myriad problems are the facts that it has never been profitable, nor does it have manufacturing experience.

In February 2014, SolarCity's stock price peaked at about $85 a share. Today, a share is less than $20. Microaxis gives it a probability of bankruptcy score of 48 percent. Crains reports that it posted a $251 million loss in Q1 2016 and a loss of $230 million in Q2. To "stop the bleeding," Elon Musk (a donor to both the Obama and Clinton campaigns and the Clinton Foundation), who owns more than 20 percent of the company, announced that Tesla (of which he also owns more than 20 Percent) would purchase SolarCity—this after as many as 15 other potential buyers and investors looked at the company and decided to pass. SolarCity even considered selling the solar panel manufacturing business.

 

Both SolarCity and Tesla are, according to the Buffalo News, facing a "cash bind"—this despite receiving billions in federal and state grants and tax credits as I've previously addressed. Tesla is described as "cash-eating electric vehicle and battery making businesses." For SolarCity, its model—which finances its solar panel installations, in order to make a profit on a lease that can be as long as 30 years, while it collects the lucrative government incentives worth billions (a practice for which Solar City is currently under Congressional investigation)—requires constantly raising new money from investors. Once the Tesla deal was announced, SolarCity's lenders started to pull back.

The Buffalo News reports: "Stock in SolarCity…now trades for $4 a share less, or 19 percent less, than what Tesla is offering—a gap indicating that investors are uncertain the deal will be completed." Additionally, the deal is being challenged by four separate lawsuits—which could delay the deal. Addressing the merger, one analyst said: "We see a lot more that can go wrong than can go right."

Then there is the manufacturing angle. Originally, the Buffalo plant was going to manufacture high-efficacy solar panel modules developed by Silevo—a company SolarCity bought in 2014. Crain's reports that it will instead produce complete solar roofs. Something it says "Dow Chemical recently abandoned after five years because it could not find a way to make a profit on the technology." But then, the Buffalo News says: "The initial production in Buffalo is expected to include photovoltaic cells that SolarCity purchases from suppliers and are used in the products that will be assembled in the South Park Avenue factory."

Whatever the plant builds or manufactures, getting it operating will be expensive—even with the New York taxpayers owning the building and equipment—and will drain scarce cash from SolarCity at a time when its financing costs have increased.

Buffalo residents wonder if they'll be stuck with the world's largest empty warehouse and without the promised jobs.

No wonder the entire project is in doubt. Because of the Cuomo administration corruption allegations, other proposed job-creators, including IBM, have pulled out until the probe is completed.

For now, Cuomo is not a part of the criminal complaint—though his name is mentioned many times—and he claims he knew nothing about it, nor does he think he's a target of the ongoing federal probe. "It is almost inconceivable the governor didn't know what was going on," Doug Muzzio, a professor of public affairs at Baruch College, said. "And if he didn't know what was going on, you can argue he should have known."

Bharara has suggested that the better name for the program would be: "The Buffalo Billion Fraud and Bribery Scheme."

Yep, the Buffalo Billion project is a "symbol" of the political promises and crony corruption—"everything we're doing"—that takes taxpayers dollars to reward political donors and then walks away when the jobs don't materialize.
Scandal sullies Spain's clean energy
The arrest of 19 people accused of corruption highlights the dirty by-product of the country's booming economy in renewable fuel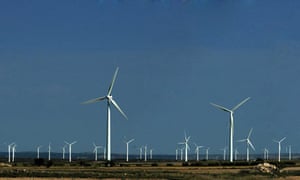 Powerful wind turbines churned the air above La Muela last week but the stir in this small Aragonese town was caused by the arrest of the mayor and 18 other people on charges that reveal a new phenomenon in Spain: eco-corruption.
Windswept La Muela, with its 500 giant windmills, has become one of Spain's richest towns on the back of what is the new gold for rural communities - renewable energy. Eight years ago, the wind energy companies that provide up to 40% of Spain's electricity on blustery days came looking to plant their turbines. These now line the hills outside the town and form neat patterns across the plain.
Generating companies pay €1m (£940,000) a year to the town hall in rent and taxes. Private landowners, many of whose families worked the hard, unforgiving land for centuries, share a further €0.5m a year. Planting windmills has proved far more lucrative than cultivating crops. Each brings in about €3,000 a year to the landowner.
The wind energy boom brought with it a frenzy of development, as the town's population increased threefold. With wind power pouring euros into the municipal coffers, colossal building schemes were pursued. The 5,000 residents now share three museums, a theatre, a bull-ring and a gleaming sports and swimming centre.
The mayor, María Victoria Pinilla, who denies any wrongdoing, showered townsfolk with money. She subsidised holidays to Cancún, Mexico, to Brazil, and to the Caribbean beaches of Santo Domingo. She herself was among those to prosper. A plot of land she owns now contains three smart new houses for herself and her two sons, one of whom was also arrested last week.
In a pattern repeated in several Spanish towns recently, Pinilla's arrest provoked indignation, directed not at her but at the courts and the police. "She has done fine things for La Muela," one local told the television cameras. "People are just envious."
Others were not so supportive. "She has been making fools of us for 22 years," said 42-year-old Asunción Gimeno.
The magistrate investigating the case yesterday sent La Muela town councillor Juan Carlos Rodrigo to jail to await trial. The same judge was expected to interrogate Pinilla today and decide if she, too, should be held in custody.
While it was the construction boom that accompanied the wind turbines which led to the arrest of Pinilla and other officials alleged to have demanded backhanders, the renewable energies explosion was already leaving a footprint of sleaze elsewhere in Spain.
A judge in the Canary Islands last week accused a former industry department chief, Celso Perdomo, of making millions of euros by selling secret information on land about to be earmarked for the wind industry.
Inspectors are also busy looking at a sudden boom in solar farms, where subsidies assuring a 12% annual return on investment over 25 years sent Spain's notoriously corrupt real estate developers into a frenzy.
In many ways those subsidies were a spectacular success. In three years Spain built about 29,000 solar "gardens", to become the world's second-largest producer of solar power after Germany. In 2004 it took three months to install 2 megawatts; by 2008 the same amount was being installed every day. The sector grew ninefold over two years, as stretches of countryside disappeared under shiny black panels. "Entire boatloads of panels from China were being auctioned before they even got to port," said one dealer.
Banks eagerly handed out loans. "It became an instrument for speculators," explained environmental expert Juanma Redondo. "Solar gardens were being sold like pension funds. It was a risk-free investment."
Licences to build solar gardens or connect to the grid became Spain's most sought-after pieces of paper, and backhanders and trafficking in licences soon started.
Clean energy is believed to have attracted dirty money, as the notoriously corrupt construction business sought ways to launder illegal earnings. Information about plans to build connection points to dump solar power into the grid also became hugely valuable: land prices around these points multiplied up to 10 times overnight.
"Who got the licences? That is where the shadow of doubt appears. There have been no public tenders and no transparent decision-making," commented Luis Gómez, a journalist at El País.
A dozen officials at the regional government of Castilla y León, in north-west Spain, were sacked last year after giving licences to relatives. Then José Joaquín Moya, the socialist mayor of Bigastro, eastern Spain, was arrested for allegedly selling licences.
When Spain's National Commission for Energy decided to inspect 30 solar gardens, it found only 13 of them had been built properly and were actually dumping electricity into the network. After exceeding its solar energy target 10 times over, Spain has slashed subsidies for future projects.
Despite the corruption brought by the boom, Spain is also reaping benefits. On sunny days solar panels provide up to 5% of the country's energy needs. Wind turbines like those at La Muela provide even more clean energy, allowing Spain to cover almost a third of electricity needs from renewable sources last month.
In addition to manufacturing solar panel and roof tiles, it builds solar panel ranches, which it then sells off, but retains the services contract. The loan guarantee is earmarked for the job numbers for the California Valley Solar Ranch (CVSR) in San Luis Obispo County, which it has already sold to NRG Solar, but will continue to maintain.
This paper studies the link between public policy and corruption for the case of wind energy. We show that publicly subsidized renewable energy can attract criminal appetites and favor the formation of criminal associations between entrepreneurs and politicians able to influence the licensing process. The insights of a simple model of political influence by interest groups are tested ...