She lived a life so big and magical that it is almost impossible to comprehend. Every story you heard is probably true... you never heard all the stories. Even though she and Skunk the cat have moved forward, you can still see her.. just go to the observatory and take a look through the big telescope. Every time you see a star go Super Nova..That's Jessica!
Here is more from her friends and all of the people she moved...
Jessica Evans a.k.a. Goth Girl
By Sara Liberte
December 12, 1955–February 13, 2018
Most of the V-twin-riding girls today will tell you they more than likely caught the Discovery Channel show Motorcycle Women and were inspired to straddle a motorcycle and take charge of their lives. One of my best friends was on that show and I got to stand by and watch her shine and graciously talk to everyone that approached her asking for an autograph or a photo, and she treated them all the same—nothing but respect. Her name is Jessica Evans, but you most likely know her as "Goth Girl."
Most of our good times revolved around Morgan "Samantha" Storm and the American Motor Drome Wall of Death. Samantha was the best female wall trick rider, and if you were lucky enough to ever catch her ride the wall, you would have seen just how special she was, and always will be. Samantha passed away in 2008 and left a major hole in our hearts. At Sam's memorial service I had the song "Somewhere over the Rainbow" stuck in my head. I confided in Goth about it; I actually thought I might be going crazy, but she assured me it was normal, just a coping mechanism. I accepted that, because I trusted her and respected her.
For those of you that didn't know Goth Girl, she was a legend through and through. She lived life on her terms; she played hard, learned lessons and applied those lessons in her everyday life. I have yet, to this day, to find another human as loyal and solid as this woman. Her word was gold, and a handshake was all you needed to know just how trustworthy she was.
My friend wasn't like anyone else… period. She was a graduate of Berklee College of Music, she rode a motorcycle, she stood up for the weak, she fought for what was right, and she did this all with the goal of making someone smile or laugh.
Goth was a warrior in so many ways. She let her heart lead her in everything she did. This was a woman that would never sell out; it had to be a legit operation, with a goal she was passionate about, or she just wasn't on board. She was an esteemed piano player and was the house pianist for many years at One Market Plaza in San Francisco where she ran her business "Shine 'Em Up." She loved to shine leather and no one could shine a pair of boots like these girls could.
Goth was also the co-founder of the infamous Devil Dolls MC. She developed "Goth Block," a sunscreen with "SPF 666." I could never go anywhere without my Goth Block. Jessica was hip to the damage the sun can do to your skin, and her porcelain white skin was flawless, her beauty was ageless, her style was classic and glamorous and her heart was genuine.
She loved animals and along with Samantha and me, we were determined to help animals however we could. We used to tell each other stories of how if we were superheroes we would swoop in and help the innocent, the children, the animals, we would fight to right a wrong; we would make a difference in someone's life, human or animal.
When I learned of Goth's passing, that song "Somewhere over the Rainbow" popped into my head again. They say when an animal passes away they go to the Rainbow Bridge. It makes perfect sense now why that song is in my head. Goth and Sammy are taking watch at the Rainbow Bridge to look after all the animals.
Ride in peace, my dear friend; thank you for sharing your beauty with us all. I'll see you and Samantha soon, but not too soon. I still have our work here on earth to tend to. You guys got the bigger shift upstairs.
thoughts on "Jessica Evans a.k.a. Goth Girl"
Karen Jessica Evans
December 12, 1955

–

February 13, 2018
Karen Jessica Evans was born on December 12, 1955 and passed away on February 13, 2018 in San Francisco, California.
REMEMBERING
Karen Jessica Evans
have a memory or condolence to add?
David Schindler
December 12, 2018
Tonight I am listening to Jessica's Christmas CD. And smiling ...
Tonight is December 12th , Jessica's actual birthday. ( I was mistaken and misspoke previously , sorry , but which I'm sure she would laugh at and chide me )
Tonight I celebrate Jessica and dedicate this evening of Christmas music in her honor and memory.
To you Goth Girl ,
Jonny Dashboard
Matthew Steen
December 9, 2018
We miss you so much today on your birthday. You are beloved and will never leave our thoughts. Love.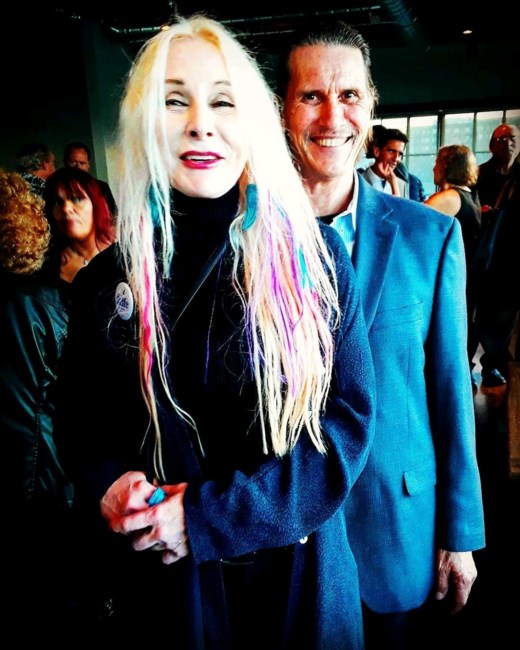 David Schindler
December 8, 2018
I think today , December 9th , is Goth Girl's birthday , but I usually didn't get right and she would have to set me straight. I wish Jessica were around to let me know if I got it right this year, And this year I surely missed her playing a boogie woogie birthday medley for my birthday , on my voicemail .... heh
Play on , Goth , because your songs of joy and sharing and life fully lived we still sing.
Jonny Dashboard
Daryl Leu
September 30, 2018
A legend among bikers Gothgirl was an inspiration to all those who shared her vitality, generosity and diversity. Whether riding her Harley, caressing her keyboards, shining em' up or saving the animals and their environment; her accomplished life and compassion for all living things were second to none. A Devil Doll on earth; and now a Shining Star in heaven. Thanks for the memories, you'll never be forgotten.
Tom "Chainsaw" Harrington
August 23, 2018
I'm saddened by the news of your passing Jess. I got sober and changed my life, because of you. Everything good in my life has come from your kindness and grown from there. I appreciate that you were in my life and brought nothing, but goodness.
I got into the arts and tell jokes on stage. I ride my Harley everywhere I go and live life to the fullest. I wish that you could see how fulfilling my life has been after your inspiration, that night in Sacramento after the Easyrider show. All of the hours we spent together during my recovery really helped me keep with it. I do miss you and your music so much. I'm going to make you proud Goth Girl.
I love you Jess! See you on the other side my friend!
Bruno Theduardo
June 23, 2018
Goth Goth Goth Goth Goth, what a loss this world suffers...I will be in shock forever. The day you passed away a spiritual friend of mine told me the importance of our friendship and to let you know it's value. Wow you were the coolest of cool! I'm so upset and could fill this whole web sight up writing about you but I will keep it short and look foward to seeing you on the other side. Love Bruno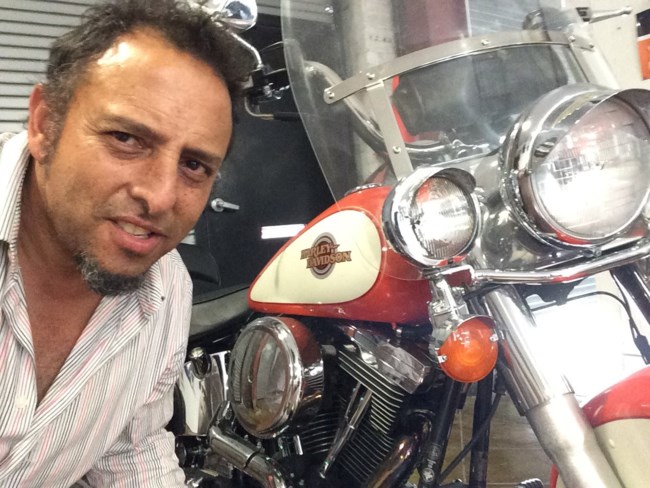 Domenic Gulino
May 20, 2018
The many hours I spent by your side watching and listening to you play the piano are some of the fondest musical memories of my life. You were like a Goddess sharing your heavenly gift with the world. The smiles and laughter we shared have lived in my heart throughout my lifetime, and I've never forgotten what a beautiful and very special person you were. Thank you for enriching my life with your talent and friendship. I have always cherished the cassette tape you gave to me of your playing, and when I listen to it I will envision the beautiful Angel who so deeply touched my life.
Barbara Gibson
April 9, 2018
Like everyone else, I am shocked and grieved to get the news of Jessica's death. I tuned her pianos for years and through that formed a friendship with her. Never got to the bottom of her...that girl had layers for days. Beneath that striking exterior there lay a huge heart, a wildly original mind, and tons of love for humans and creatures both; I could barely keep up with her patter about everyone and everything she had enthusiasm for. Massive love and condolences to everyone who loved and was loved by her. Special love to her family, of whom she spoke often. Thank you, Mathew, for taking time out from your grief to l get this sad news out.
David Schindler
March 27, 2018
From the first day Jessica came in to Cole Hardware where I work we became friends. She is fondly remembered by all of us at the store as being engaging, energetic, and often using her zany sense of humor. Jessica became a very special person to me as we got to know each other, especially while I helped her with some of her Loft Improvement projects. And it was her sensitivity , creative talents, and the way she embraced the world around her that informed and inspired me as an artist. I am forever grateful for Jessica having been in my life.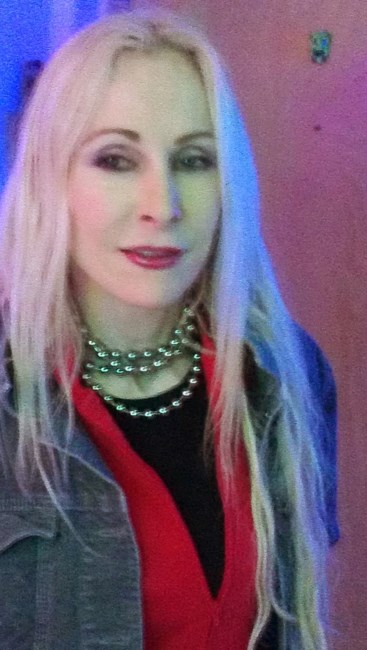 George Lippert
March 26, 2018
Jessica was my new pair of glasses in so many different feelings and emotions early on. I could see our reflection in my shoes and her fingers brought joy to my ears. I don't miss the cat though Jessica but will always miss you.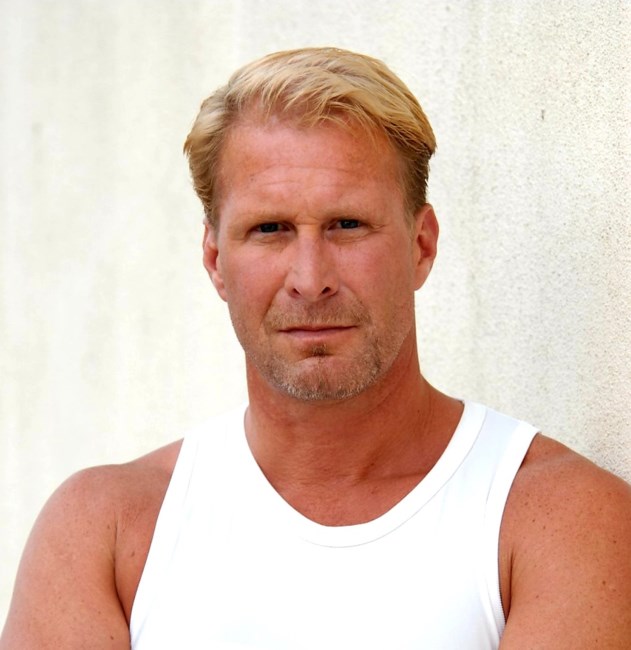 Mary Bishop
March 25, 2018
Jessica
I will always remember you as a beautiful musician. A soft heart in leather on a motorcycle. You will remain in my memory and heart forever.
Georgia Llewellyn
March 25, 2018
Jessica, I just learned tonight that you passed away last month. I'm SO sad! I remember dancing in your musical, Angel of Mercy, for the Spirit of San Francisco conference all those many years ago. Fun times. And then you gave Mary and I the opportunity to do some 12 Step work when you relapsed. It was an honor to be a part of bringing you back into the fold and I always enjoyed your phone calls and messages to let us know that you were doing well.

You truly were a talented angel who talent and beauty will be missed. RIP dear one.
Margaret (Magdoll) Bruno
March 20, 2018
Hey Goth! I am crushed to hear this news, my dear friend. We shared motorcycles adventures, shopping excursions, program, and we got our cats together! I visited you hundreds of time at One Market - I know you always missed Skunk so much and now you are reunited! Please say hi to my Villain as well. I love you so much and will miss you so much. listening to you play the piano was such a joy to me - too many memories to mention. So much. I was wondering why I didn't hear from you on March 16th especially. You rest in peace Goth Girl.. and watch over me willya?? I Love you, MagDoll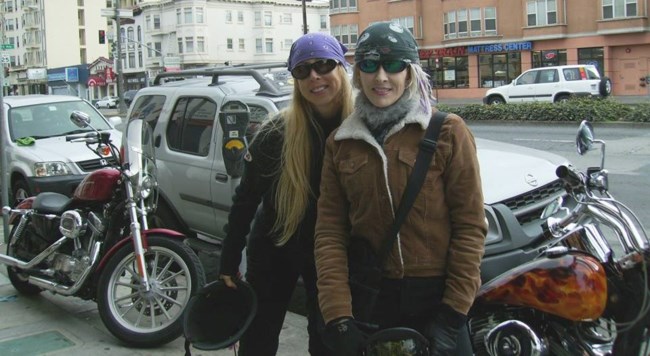 Kathleen "Kat" Grover
March 20, 2018
So sad to hear that the rumors about Jessica Evans "Goth Girl" passing away is true. She will always be in my heart/soul forever. She changed my life for the better and gave me an experience of a lifetime. Her style, class, craziness, humor, jokester side kept me on my toes. I never knew what or how to take what she would say or do. Her laughter was contagious. Her pranks were legendary. I will always remember YOU!!!! My life is so much more because I met you. RIP Goth. MLH&R Kat
Sara Liberte
March 14, 2018
Ride in peace my friend. You were a warrior in so many ways, you let your heart lead you in everything you did. You were a woman that would never sell out, it had to be a legit operation, with a goal you were passionate about, or you just weren't on board. I will miss your birthday messages playing me Happy Birthday on your piano, I have everyone saved on my phone and will cherish them till I see you again. I take peace in knowing you are now with Samantha up in heaven looking after all the animals. As always, love & Respect.
Matthew Steen
March 13, 2018
Jessica was a phenomenal concert pianist with an endless rolodex of classical, jazz, pop and Broadway tunes in her repertoire. While in Hollywood, she formed the 1980s synthpop band, Makaface, earning a recording contract with A+M Records. She was also a trailblazer, trendsetter and role model for women around the country in her passion for Harley-Davidsons, leading to her co-founding of Devil Dolls M/C. In turn, this led to a movie, "Motorcycle Women", in which she co-starred as 'Goth Girl' and later television appearances. She later became an environmental activist in San Francisco, fighting to preserve trees and natural habitats for wildlife. Throughout her life she remained true to herself on her terms. Jessica blessed me in the presence of her fierce compassion yet gentle spirit, her boundless faith and her trust. Rest in Heaven.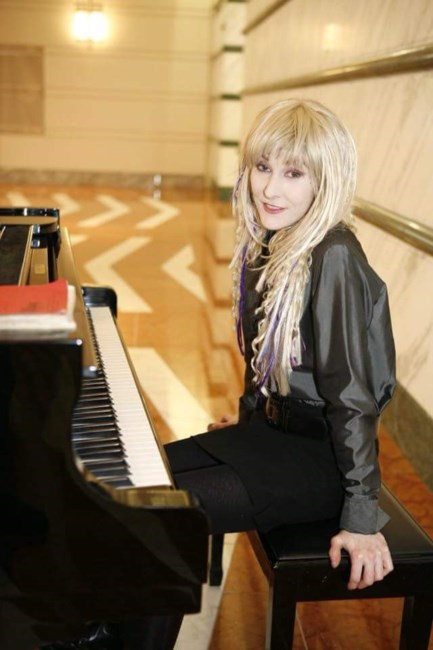 Becka Robbins
March 5, 2018
What a lovely friend, and an inspiring piano teacher. I will miss your light and your kindness, and your deep love for animals. I will miss how we shared a passion for music of all sorts, and how we would chat away our lesson time while, at the same time, you taught me to believe in my potential as a musician, and reminded me that it is never too late. I will keep playing, and will keep working my left hand the way you taught me, and I'll finish all those music projects we were working on. Your weird and glittery light will shine forever, beautiful, and I am positive that you touched more lives than you could possibly know.
Ice Bentley
March 4, 2018
You were one of the kindest people I have ever known. We were such good friends and unfortunately drifted apart. I still thought of you often. You were a gifted musician and one of the most wonderful memories I have is you playing the piano in the loft and one of your friends playing the violin. It was so heartbreakingly beautiful...
Motorcycles were such a large part of your life and our friendship. I remember the day I met you. You told me I looked like a Devil Doll. We had a lot of fun times. I will always have you in my heart. You now soar with angels...you will be missed....Ice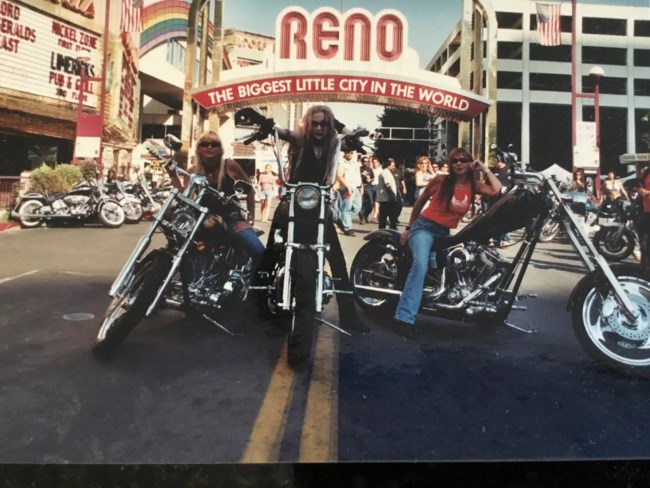 Boris Xavier-Kafka
March 2, 2018
You have touched so many with your friendship, humor, and your talent. We miss you deeply. Thank you for your many years of friendship.
William Evans
March 1, 2018
R.I.P. sis...miss your genius Blondie! Never was a more gifted piano player. Rest in Heaven with Gayleen. See u again one day...love u❤
One of the toughest, sweetest, friends you could ever have... See you later J!