By Terrence Scanlon - - #PaloAltoMafia
ANALYSIS/OPINION:
Steven Chu, who is leaving his position as secretary of energy, might have been a great pick for the job, if only the real world worked like bad science fiction.
In comedies and sci-fi, we often encounter the "generic professor" character, the all-discipline scientist, the master of all areas of human knowledge. In real life, though, most scientists specialize. One might be an expert on the CCR5-Delta32 AIDS-resistance allele, another on the (mem)brane concept in string theory. The amount of study and the narrow focus needed to become a world-class scientist rarely allow scientists to move outside their fields.
When scientists get involved in politics and public policy, they often make fools of themselves. Scientists promoted now-discredited ideas about phrenology (linking traits such as criminality to the shapes of people's heads), eugenics, white supremacy, nuclear winter and the "impossibility" of missile defense.
All-star polymaths do exist, and some have become effective politicians. Thomas Jefferson and Benjamin Franklin come to mind.
Steven Chu is no Ben Franklin.
There's no question he's a great physicist. He won the Nobel Prize (with two other scientists) for the development of techniques for trapping and cooling atoms with laser beams. That research makes it easier for scientists to study individual atoms, notably to study biology at the single-atom level. To his credit, he did important work to bring together the fields of biomedicine and physics, and he defied political correctness by speaking out in support of nuclear power.
The problem was that Mr. Chu overreached and became an activist. Science is supposed to be based on replicable experimentation, but little scientific research is independently verified. So trust plays a big role in science. That's why so many scientists fell for the "evolutionary levels" concept that fed Nazism, and for the idea of catastrophic, man-made global warming.
President Obama, it is said, brags about having Mr. Chu among his top advisers. Never mind that the secretary of energy should know something about the oil and gas business, and that a random guy working a rig in the Gulf of Mexico is probably more qualified to be energy secretary. Mr. Chuis a famous scientist — and thus an expert on everything.
Inevitably, Secretary Chu fell for one con after another.
First, Solyndra, which received $535 million from taxpayers, is now bankrupt. Abound Solar ate up $374 million and is now bankrupt. Others include UniSolar, $100 million; Ener1, $118.5 million; and Nevada Geothermal, $98.5 million. All are bankrupt. Well, at least there's A123 Systems, which was awarded $249 million and developed some impressive battery technology. Oh, wait — A123 was sold to the Chinese. How about LG Chem ($142 million)? The new jobs it promised ended up in South Korea.
Mr. Chu and his cohorts claim to have created 3.1 million "green jobs" — a term that includes janitors at solar-powered facilities, drivers of hybrid buses and people who fuel the buses, workers at antique shops and used-record stores, environmentalist professors, and oil company lobbyists. In other words, the term is a fraud.
What about "renewable energy"? Another fraud, given that wind and solar require, for example, rare-earth minerals that are most definitely not renewable.
The United States sits on massive energy reserves. Our country is the Saudi Arabia of both coal and natural gas and has abundant supplies of oil, but we can't exploit our resources fully because anti-hydrocarbon ideology stands in the way.
Mr. Chu prefers a "glucose economy" based on glucose from tropical plants. Before his nomination he said, "Somehow we have to figure out how to boost the price of gasoline to the levels in Europe," which would be $8 to $10 a gallon.
Most frighteningly, Mr. Chu dreams of a U.S.-China partnership, rooted in the theory of man-made global warming, that would set the course for the world economy.
Daniel Roth reported in Wired magazine (May 2010) that Mr. Chu considers China "the key to America's long-term energy future. Since the U.S. and China produce some 40 percent of the world's carbon dioxide emissions, Chu argues that far-reaching multicountry agreements aren't really necessary … . It's smarter to deal with China alone."
Just picture it: The United States, teamed up with a government that has killed more of its own people than any other government in world history, in order to bully the rest of the world.
With Mr. Chu's departure, we could have a new secretary of energy with real-world experience in the energy field and with sophisticated views about technology, business and dangerous nations such as China. More likely, though, we'll get someone like Mr. Chu — someone who reminds us that the term "know it all" is usually sarcasm.
Terrence Scanlon is president of the Capital Research Center
By Eileen AJ Connelly and Mary Kay Linge
|
Bill and Hillary ClintonReuters
MORE ON:
The stench of past scandals is haunting Hillary Clinton as allegations regarding the family's foundation fester.
News that the Clinton Global Initiative aided a company part-owned by a close female friend of Bill Clinton highlights two issues that the Democratic front-runner wants to put behind her as she prepares for the general election — her husband's infidelity and the charity's shady ethics.
The Clinton nonprofit helped secure a pledge in 2010 for a $2 million investment in Energy Pioneer Solutions. The for-profit green-energy company is co-owned by several well-connected Democrats, as well as wealthy divorcée Julie Tauber McMahon, a neighbor of the Clintons' in Chappaqua.
Bill Clinton reportedly made a call to then-Energy Secretary Steven Chu to endorse the company, which helps people insulate their houses. It later got an $812,000 Energy Department grant.
Federal law bars tax-exempt charitable organizations from acting to benefit a private company. But the foundation said the relationship with the firm reflected "a common practice in the broader philanthropic space."
The investment deal, which was trimmed to $500,000, was announced at the Clinton Global Initiative's 2010 conference, The Wall Street Journal reported, but details about it were wiped from the charity's Web site to avoid calling attention to McMahon.
'The Clinton foundation controversies give good material to Trump as the two campaigns engage in a scorched-earth game called "Who's More Corrupt?"'

- Larry Sabato, director of the University of Virginia's Center for Politics
The 69-year-old former president describes McMahon, 56, as a "family friend." But speculation is rife that she's the woman dubbed "Energizer" by Secret Service agents because of her frequent visits to the Clintons' Westchester home when Bill was home but Hillary wasn't.
McMahon, daughter of a millionaire donor to the Democratic Party, has denied having an affair with Bill Clinton, 69. She could not be reached for comment.
The revelations bring new attention to the ethical minefield the Clinton foundation navigated with governments and corporations while Hillary Clinton was secretary of state.
They are also hampering her attempts to win over Bernie Sanders supporters who question her trustworthiness. Currently, a quarter of Sanders supporters say they wouldn't vote for Hillary in the general election, according to GOP pollster Frank Luntz.
And the issue feeds the "Crooked Hillary" message Donald Trump is pushing, even as she attempts to shift the focus to the Republican front-runner's reluctance to release his tax returns.
"The Clinton foundation controversies give good material to Trump as the two campaigns engage in a scorched-earth game called 'Who's More Corrupt?' " said Larry Sabato, director of the University of Virginia's Center for Politics. "As always, the best defense is a good offense."
The Clintons' questionable ethics were already a negative with voters, said political consultant Susan Del Percio.
"This just calls into even more question their honesty and integrity," she added.
Clinton foundation
The latest headlines also play into the investigation of Hillary Clinton's use of a private e-mail server when she headed the State Department, Del Percio said.
Any new charges would mean "she can't put the old allegations behind her. They make what was old new again," she said.
As for the airing of more of the Clintons' marital dirty laundry, Del Percio said, "it plays into a longstanding narrative" that casts Bill Clinton as a serial philanderer.
It's a narrative that Trump is already exploiting.
"Trump appears to be inclined to make that an issue," said political consultant Gerry O'Brien. "Especially if [Hillary Clinton] makes an issue of his indiscretions, like his comments and conduct with beauty . . . contestants."
But, O'Brien warns, that tactic may boomerang for Trump.
"Hillary has always thrived when she can play the victim," he said.
Calls For Steven Chu To Be Fired Over Solyndra Scandal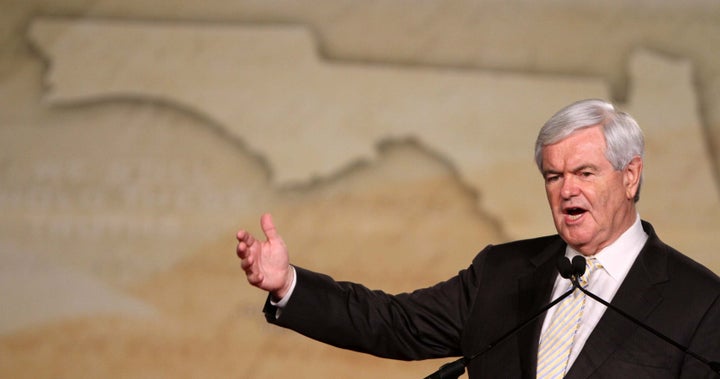 WASHINGTON — Former House Speaker Newt Gingrich on Monday called for Energy Secretary Steven Chu to be fired for his decision to allow Solyndra to keep receiving taxpayer money even after the struggling solar company had technically already defaulted on the $535 million federal loan guaranteed by the Energy Department.
The long-shot presidential candidate attacked Chu on his website Monday, earning Gingrich the dubious honor of being the first politician to publicly attack the Nobel Prize-winning physicist who arrived in Washington via academia.
"The president says he has full confidence in Secretary Chu despite this scandal," Gingrich wrote on his website. "What kind of confidence can we have in a president who refuses to hold his cabinet officers accountable?"
"As President, I would have fired Secretary Chu for so grossly mismanaging taxpayer dollars," Gingrich continued. "Furthermore, to protect taxpayers, I would have blocked any additional loan guarantees until a full investigation had taken place into the mismanagement and potential corruption in the loan for Solyndra."
The comments come as House Republicans are turning up the pressure on Chu after a spokesman admitted the secretary was ultimately responsible for the restructuring of Solyndra's federal loan guarantee, which the politically-connected company secured in 2009.
Rep. Cliff Stearns (R-Fla.), the chairman of the subcommittee at the center of an investigation into government loan programs that benefit private companies, told The Huffington Post on Friday that Chu's decision was a direct violation of the Energy Policy Act of 2005, which requires that taxpayers be placed ahead of private investors when it comes to repaying a federal loan guarantee.
Stearns has not, however, explicitly called for Chu to be fired.
"Secretary Chu and other officials should be held accountable for their role in exerting pressure to close the Solyndra loan and for illegally subordinating the taxpayers to two private hedge fund investors this year," Rep. Cliff Stearns said in a statement to The Huffington Post on Tuesday night. "I intend to have him come before the committee and testify so that he can explain his actions and then hold him responsible."
Chu is slated to appear sometime soon before the House Energy and Commerce subcommittee.
Internal White House email threads released in their entirety on Tuesday showed that government officials had significant concerns about the Solyndra loan guarantee. As Democrats have noted, the emails do not reveal any signs of corruption, merely disagreement about whether the firm was financially viable.
The documents "do not contain evidence that government decisions relating to Solyndra were influenced by considerations relating to campaign donations," wrote Democrats in a memo on Monday. "Rather, the documents show that there was internal disagreement within the administration about Solyndra's viability and the effectiveness of the loan guarantee program throughout the process."
Steven Chu is a traitor.
Steven Chu is a traitor.
"The final decisions on Solyndra were mine," said Secretary of Energy Steven Chu in his testimony before the House Energy and Commerce Oversight Committee on November 17, 2011. And this should be his political epitaph. Chu's decision to pour $528 million tax dollars into a failing green energy boondoggle that went belly-up in 2011 is indefensible and corrupt, especially in light of the fact that Solyndra's key investor (Tulsa billionaire George Kaiser) also happens to be a major Obama campaign donor.
On March 12, 2012, Rep. Darrell Issa's (R-CA) Energy and Oversight Committee exposed the full extent of Chu's incompetence and corruption in a report citing "numerous examples of dysfunction, negligence and mismanagement by DOE [Department of Energy] officials, raising troubling questions about the leadership at DOE and how it has administered its loan guarantee programs." The report accused Chu's DOE of having "turned a blind eye to the risks that have been glaringly apparent since the inception of the program."
Whether Chu indeed made the "final" decision on Solyndra, or is simply protecting the president and his donor, this is a scandal of a major magnitude. And yet, it is only the tip of the iceberg. As Peter Schweizer, author of the book Throw Them All Out wrote, "According to the Department of Energy's own numbers … In the 1705 government-backed-loan [green energy] program, $16.4 billion of the $20.5 billion in loans granted … went to companies either run by or primarily owned by Obama financial backers—individuals who were bundlers, members of Obama's National Finance Committee, or large donors to the Democratic Party."
Sphinx-like Secretary of Energy Steven Chu may or may not be getting closer to approaching a plan to begin the process of preparing to lay the groundwork for issuing a preliminary statement on the Solyndra bankruptcy.
TheHill.com notes that the House Energy and Commerce Committee's investigative panel is asking nicely for a comment from Chu:
Rep. Michael Burgess (R-Texas) and other Republicans on the subcommittee have called on Chu to testify on the Solyndra loan guarantee.

Republicans on the panel wrote to Chu last week to request all communications between the Energy Department and the White House on the Solyndra loan guarantee.

The document request is part of a broader effort by Republicans to determine if the White House rushed consideration of the loan guarantee.

The committee, which launched its investigation into Solyndra in February, has already received more than 35,000 documents and has released select emails that Republicans say show that the White House tried to rush a decision on the company's financing so that the loan guarantee could be announced at the Sept. 2009 groundbreaking of the company's factory.

The administration has insisted that it thoroughly reviewed the project, and has strongly denied any wrongdoing.
In a striking example of overpromising and underdelivering, Politico takes a story that contains no new comments from Chu and some speculation about what the energy secretary might say here he inclined to say anything, then gives it the impressive title "On Solyndra, the buck stops with Secretary Steven Chu." A sample:
Chu will eventually get his chance to explain his role in the sequence of events when he appears — perhaps as early as October — at a House hearing on Solyndra. He can expect a politically charged atmosphere. Republicans, after all, have already called for Silver to be fired and haven't ruled out making the same case for Chu's dismissal.

What the lawmakers will likely hear from the Nobel Prize-winning physicist is an explanation that he's always been the key decider in the Solyndra process, with a record articulated in dozens of public statements and interviews given over the last 2½ years.

Chu's message has been clear: Hearing calls from top GOP and Democratic lawmakers, including during his Senate confirmation hearing, he wanted to break through red tape inside DOE and at rival Cabinet agencies that had resisted getting loan guarantees out the door for several years after their authorization by the Energy Policy Act of 2005.
I love that "eventually get his chance to explain." Because Cthulhu knows it's impossible for a cabinet-level department head to get any airtime to make a statement, what with the fragmentation of media and all.
As Chu spends time with his family, we may have a clue to why the FBI launched its investigation of Solyndra: an investigation into possible inaccurate financial statements.
The DoE's impeccably timed $737 million loan to the Solar Energy Project is also smelling worse by the day. It can't be a good sign when one of the most prominent beneficiaries of the loan is former House speaker Nancy Pelosi (D-California)'s brother-in-law, and that isn't even the scandalous part. NRO's Andrew Stiles expands:
But that's not all. [Santa Monica-based SEP developer] Solar Reserve is also investment partners with Argonaut Private Equity, an arm of the (George) Kaiser Family Foundation that was a major investor in Solyndra and was involved in negotiations with the DOE to restructure the failed company's loan agreement. That agreement would ultimately give Argonaut and other private investors priority status over the American taxpayer with respect to the first $75 million recovered in the event of Solyndra's collapse. As Republicans argued at a recent House committee hearing, this arrangement was almost certainly a violation of federal statute.

Argonaut's managing director, Steven Mitchell, served on Solyndra's board when the restructuring took place, and reportedly still serves on the company's board. He is also listed as a "board participant" at Solar Reserve.
In other words: We have top men working on it right now.
Meanwhile, the Wall Street Journal reports that a new poll indicates few Americans are paying attention to the Solyndra scandal, and most still support so-called clean energy initiatives:
Of 650 Ohio voters surveyed after Solyndra's bankruptcy, just 11% said they had heard "a great deal" about the issue, the pollsters said. They also found that while 16% said they had heard "a little," those people couldn't talk about the issue in any detail.

California voters who participated in focus groups were more aware of the story, but still supported clean energy and considered Solyndra to be a bad apple rather than an indication of a systemic problem. Nearly two-thirds of voters in the Ohio poll expressed similar sentiment, saying their view was more aligned with a statement that problems with one failed company should not stop clean energy investments as a whole.
More surprising than the continued support for solar power is the apparent support for spending taxpayer dollars on it, which the report [pdf] from Public Opinion Strategies has at 62 percent, versus 31 percent opposed. However, I'm a little skeptical of the strongly leading questions:
I hope the remaining 7 percent answered, as I would have, "Both of these options are stupid." I don't want my taxes subsidizing private companies of any kind, and I'm aware that the amount of energy conventional solar power generates is modest. But how the hell should I know whether solar businesses can compete or succeed without government assistance?
The only way to find out whether these companies can work in the marketplace is to let them compete without government assistance. In the wake of Solyndra a few companies have in fact come forward to brag about their subsidy-free business models, and I wish them well. If anything, the stunning longevity of the Mars rovers has impressed upon me the viability of solar power, on Mars.
Finally, this video has been in wide circulation for a few weeks, but seems to be getting a lot of attention today. Joe Biden, you've done it again!