VANITY FAIR:

"He's Full of Shit"

: How Elon Musk Fooled Investors, Bilked Taxpayers, and Gambled Tesla to Save SolarCity
The controversy over SolarCity, which has dovetailed with questions about Musk's mountain of debt and profit shortfalls, offers a window into the mindset of America's most outlandish CEO. Tesla Solar panels so defective they set the Walmart's on fire
It was a Saturday night last March in Buffalo, and Dennis Scott was sitting at home. A stocky veteran with salt-and-pepper hair and a close-cropped beard, Scott had been laid off from Tesla's factory in Buffalo two months earlier as part of a global reduction in the company's workforce. Since then, he had taken to sending Elon Musk emails and point-blank tweets, describing the pain the layoffs were causing.
Ten days after Scott was let go, Musk had tweeted a goofy picture of himself posing with what looked like a machine gun. Scott retweeted the image and called Musk a clown. "If I were CEO and someone told me my company wasn't working right," he explains, "I wouldn't be clowning around. I've got people counting on me for their livelihood."
Now, around 10 p.m., his phone rang. The call was from an unmarked number. Scott answered.
"It's the clown," the person at the other end informed him.
Scott, unfazed, figured that Musk must have gotten his number from the company. For the next 20 minutes, he recalls, he and his former employer had a civil conversation. "When are you going to fix your company?" Scott asked.
Musk was pleasant but offered no specifics about the Buffalo plant. Scott continued to ask frank questions. "You took $750 million from New York," he told Musk, referring to the taxpayer money that the state handed Tesla as part of its Buffalo Billion program to revitalize upstate New York. "You gave us hope that you were going to do something."
Musk's responses left Scott unimpressed. "Musk is a nice guy when you talk to him," he says. "But I think he's full of shit. He'll tell you whatever you want to hear."
In public, Musk doesn't talk much about Tesla's factory in Buffalo—a place he once, in better times, dubbed Gigafactory 2. Gigafactory 1, of course, is Tesla's much-hyped futuristic electric car plant outside Reno. Gigafactory 2, which is shrouded in silence and secrets, was a controversial side venture: a high-stakes move to dominate America's growing market for solar energy. Tesla bought the factory's main tenant, SolarCity, for almost $5 billion in 2016. The plan, in true Muskian hyperbole, was to turn the plant in Buffalo into what was billed as the largest manufacturing facility of its kind in the Western Hemisphere. SolarCity would build 10,000 solar panels per day and install them on homes and businesses across the country. In the process, it would create 5,000 jobs in an area that very much needed them. "This is one of the poorest cities in the country," Scott says. "You get a big company here, and it's a big deal."
From the outside, the sheer scale of the Buffalo plant sparkles with promise. At 1.2 million square feet, it stands at the point where the Buffalo River bends through the city. The building is gleaming white, as if to signify its freshness amid a landscape of abandoned grain elevators and sprawling, desolate steel mills. The area around the factory is hardscrabble working class; until SolarCity was built, people only drove through it when the fierce wind off Lake Erie shut down the highway that residents take from the southern suburbs to downtown. Now three flags fly in front of the factory: those of the United States, New York State, and Tesla.
But three years after Tesla bought SolarCity, there are serious doubts as to whether the plant will ever fulfill its promises. The website CleanTechnica, which is mostly supportive of Musk, calls SolarCity "a disaster waiting to happen." A potentially costly lawsuit alleges that Tesla acquired SolarCity at the expense of its own shareholders. And former employees want to know what happened to the massive subsidy Tesla received. "New York State taxpayers deserved more from a $750 million investment," a laid-off employee named Dale Witherell wrote to Senator Kirsten Gillibrand. "Tesla has done a tremendous job providing smoke and mirrors and empty promises to the area."
There are growing questions about SolarCity's product, too. Last week, Walmart sued Tesla for breach of contract due to "years of gross negligence," claiming that solar panels installed at seven of its stores went up in flames, causing millions of dollars in damage. The lawsuit, citing Tesla's "utter incompetence," seeks to have the company remove rooftop panels it installed at more than 240 Walmart stores.
The controversy over SolarCity, which has dovetailed with questions about Musk's mountain of debt and profit shortfalls, offers a window into the mind-set of America's most outlandish and unpredictable CEO. Musk's believers argue that the details of his ventures don't matter: It's the grand vision that counts. "The guy has a will to make stuff happen that is extraordinary," says someone who worked closely with Musk. "He willed Tesla to happen. And in willing a reality into existence, he might not stick to the facts." But in the case of SolarCity, Musk's penchant for making promises he can't deliver on turned out to matter a great deal—and could even pose a threat to his entire empire.
When Witherell got his job at the SolarCity plant last year, he was thrilled. He'd moved back to Buffalo, where his parents live, after a stint in Texas and a tough divorce. He has a disabled daughter, but even so, the job wasn't so much about the paycheck. "At some point push is going to come to shove in our world, and fossil fuel use is going to catch up with us," he says. "I believed in the product."
The plant, in fact, was a centerpiece of Governor Andrew Cuomo's grand plan to revitalize upstate New York. Buffalo's landscape offers a daily reminder of its past glory and present despair. The grain elevators that Le Corbusier once called the "magnificent first fruits of the new age"—and which supplied the nation for half a century, before they were rendered irrelevant by the St. Lawrence Seaway—still loom over the horizon, too costly to demolish. The blackened shell of the warehouse at the old Bethlehem Steel complex, destroyed by fire a few years ago, punctuates the river like an angry exclamation point. Once one of the nation's largest cities, Buffalo's empty streets feel oddly discordant. "Here, if you have to sit through a traffic light even once, you have an aneurysm," says Dave Robinson, an editor at the Buffalo News.
Now, under Cuomo's plan, Buffalo's massive steel plants would be replaced with the sun itself. In September 2014, the governor toured the SolarCity site. The smiles were big and the words were grand. The success of the plant, Cuomo proclaimed, was "of critical importance to the United States' economic competitiveness and energy independence."
SolarCity was founded by two of Musk's cousins, Lyndon and Peter Rive, who grew up with him in South Africa. Musk, who put in $10 million, was the largest shareholder and chairman of the board. The initial idea, the Rives explained, was not to be a manufacturer but rather to control the entire consumer experience of going solar, from sale to installation, thereby driving down costs. For a time, SolarCity was a hot stock, growing almost tenfold from its public offering in 2012 to its peak in early 2014.
As is common with Musk's ventures, SolarCity professed to be focused on changing the world. "Everything was very motivational," says a former executive. Some workers, taking the ethos to heart, sported SolarCity tattoos.
But the initial success of the company's stock masked some difficult realities. SolarCity's business model was to front the costs of installing solar panels and allow homeowners to pay over time, which created a constant need for cash. That required raising money from outside investors, often big banks, who were then entitled to the first chunk of the payments homeowners made—leaving SolarCity in a never-ending scramble to raise more debt. The real engineering that took place at SolarCity, in short, was financial, not environmental.
On the consumer side, SolarCity was plagued by complaints about misleading sales tactics and shoddy installations. As the problems mounted, some workers began to feel manipulated by the company's talk about being a force for good in the world. "I turned a blind eye to a lot of the silliness because of the idealism," says one former senior employee. "I don't know when the Rubicon was crossed, but there were micro-crossings every day."
By 2014, several insiders say, the board was also growing concerned. The company imported most of its solar panels from China, and it looked like demand would soon outpace supply. Because Musk had a reputation as a manufacturing genius, the board decided that SolarCity needed to start making its own panels—a huge shift in its business model. "Installing and selling solar has almost nothing to do with manufacturing," says a former solar-industry executive. "It's like a car dealer saying it's going to make cars."
In June 2014, SolarCity bought Silevo, a solar-panel manufacturer that had struck a deal with New York to build a factory in Buffalo. On a conference call, Musk boasted that the deal would enable SolarCity to install tens of gigawatts of panels every year—far beyond the company's peak annual run rate of about one gigawatt. He spoke as if the technology were already proven. On its website, SolarCity predicted it would "achieve a breakthrough" in solar-power pricing thanks to "massive economies of scale."
"It was shoot first and aim later," says the former senior employee. "There was a lot of machismo going on: bigger, better, badder, faster."
By the time Cuomo visited the site three months later, Silevo's smallish deal had metastasized. The state promised to spend $350 million to build a factory and another $400 million on equipment specified by SolarCity. The company would get a 10-year lease on the facility—for just $1 a year. In return, it promised to employ at least 1,460 people in "high-tech" jobs at the factory, hire another 2,000 to support the sale and installation of solar panels in New York, and help attract an additional 1,440 "support jobs" in the state. Once it achieved full production, the company pledged, it would spend some $5 billion in New York over the following decade.
"It was sold as a perfect marriage," says the former senior employee. "The area around the factory is terrible, and I remember thinking: Wow, we are going to save the town where steel was made." Cuomo too was hooked. "He was enchanted with the idea of Elon Musk in Buffalo," says a longtime lobbyist in Albany. "I think he actually thought Musk was the next Dalai Lama."
Even then, to those who looked closely, the cracks at SolarCity were becoming apparent. In 2014, key executives had started to leave. The Rives began to sell stock. SolarCity's debt was soaring, and the yield on its bonds hit double digits, a sign that the market thought the company was in trouble. Goldman Sachs, one of Musk's major bankers, called SolarCity the "worst positioned" company for capitalizing on future growth in the solar sector. One of the few things shoring up the company's stock, according to a former investor, were the constant rumors that Musk was somehow going to bail it out.
In reality, the situation was even uglier than outsiders knew. As SolarCity struggled to raise money from institutional investors, it began offering individuals a chance to buy what it called Solar Bonds. ("Now you can get paid while driving the solar revolution," the marketing material said.) But there were few takers—so other parts of the Musk empire took up the slack. According to the shareholder lawsuit, SpaceX acquired $255 million of the bonds. Musk himself bought $75 million of them, and the Rives acquired another $38 million. To raise the cash, Musk borrowed against both Tesla and SolarCity stock, increasing his personal credit lines from $85 million to $475 million. He also used his own reputation to shore up the stock: In February 2016, when SolarCity stock plunged to its lowest level in three years, Musk bought $10 million in shares. A week later, when the news became public, the stock soared by almost 25 percent.
At the same time, according to the shareholder lawsuit against Tesla, the company faced "significant liquidity concerns"—meaning it was running out of money. An accounting inquiry from the SEC noted that SolarCity was burning through cash—$659 million in the first quarter of 2016 alone. That February, at a Tesla board meeting, Musk proposed a solution: Tesla, he said, should acquire SolarCity.
The board balked. But Musk kept pushing. Two weeks later, he proposed the acquisition again. Once again, the board said no.
It was a hopelessly conflicted situation. Musk owned more than 20 percent of both SolarCity and Tesla. His brother, Kimbal, served on both boards, as did several investors, including Antonio Gracias, a close friend of Musk's. As a judge in the shareholder lawsuit ruled, it is "reasonably conceivable" that Musk effectively controlled the Tesla board when he pushed it to acquire SolarCity. (Tesla, which has dismissed the allegations in the lawsuit as false, insists that "all appropriate parties" recused themselves during the acquisition.)
At the time, Musk was still a heroic figure to many. As former Tesla board member Nancy Pfund once said, "He's always been a master of the universe in my mind." Even Tesla skeptics admit that the Model S, which was launched in 2012, will go down in history as an absolute classic, followed by the equally celebrated Model X in 2015. In those days, Tesla's stock was trading at well over $200 a share, giving it a market value of more than $30 billion, a stunning figure for a company that hadn't proven it could make money.
But over the years, many skeptics have come to see Musk's stunts—from smoking pot during an interview to calling a diver who helped rescue kids trapped in a Thailand cave a "pedo guy"—as more unhinged than iconoclastic. One close observer of Musk recalls how he promised, back in 2001, to give away half of his equity in PayPal—dividing it evenly between "the people that have worked hard to build the company" and "causes I believe make the world a better place." But Musk never made good on the pledge, and the observer came to see the episode as "symbolic of Musk's penchant for making grandiose statements that he either knows are not true at the time he makes them, or that he has no real intent of following through on." Others see Musk's promises as purposefully manipulative. "Musk has a habit of overstating Tesla's operational capabilities and its prospects for profitability, especially when the company is preparing to raise capital, collect customer deposits, or secure regulatory benefits," says Brian Horey of Aurelian Partners, an investment firm.
Now the brewing problems at SolarCity threatened to give skeptics real ammunition against Musk—unless those problems could be buried. In May 2016, the Tesla board finally agreed to acquire the company for almost $5 billion, including the assumption of nearly $3 billion in SolarCity debt. On a conference call on June 22, the day after the deal was publicly announced, Musk told analysts and investors that the company had "the best technology out there for high-efficiency, low-cost solar panels." He didn't say anything about the liquidity crisis at SolarCity. Nor did he mention something else that shareholders allege the Tesla board came to learn as it did its due diligence on SolarCity: The cost per watt of solar modules being produced in Buffalo was actually projected to be 20 cents above the rest of the industry.
On October 28, 2016, just before shareholders were set to vote on the acquisition of SolarCity, Musk strode onto a platform erected on the set of Desperate Housewives at Universal Studios' back lot in Los Angeles. He talked about the existential threat presented by global warming and the desperate need for sustainable energy. Then he gestured to a group of houses that had been set up around him. They might look normal, he said, but they actually featured a revolutionary new product called the Solar Roof—shingles that would last longer and cost less than a regular roof, even before factoring in electricity. Tesla expected production to begin the following summer.
The next month, shareholders approved Tesla's acquisition of SolarCity. "Vote tally shows ~85% of unaffiliated shareholders in favor of the Tesla/SolarCity merger!" Musk tweeted. The deal doubled Tesla's debt load, but it was good for Musk, who converted his stake in SolarCity into more than $500 million in Tesla stock. By preventing SolarCity from collapsing, he also shored up his most valuable asset: investor faith in his own genius. If any piece of his empire had faltered—if Musk were shown to be fallible rather than superhuman—it would have cast doubt on the narrative that enables him to raise cheap capital for his money-losing enterprises.
"Thanks for believing," Musk tweeted to his shareholders.
That October, as Musk was making his pitch about the Solar Roof, a former Fortune 500 executive was watching it online at a friend's barbecue. The former executive, who had spent years researching solar technology, understood what it took to make the Solar Roof work—and he was confident that Musk hadn't figured it out. "He spewed total BS," says the executive, who asked not to be identified. "I was flabbergasted. I was convinced in the moment that the shingles were fake."
Adopting the Twitter handle @TeslaCharts, the executive began drawing on his Ph.D. in science, and his background as a financial analyst, to share infographics that detailed Musk's overreach. His follower count mushroomed, and he became a core member of a group of outspoken Tesla critics who go by the Twitter hashtag #TSLAQ—Tesla's stock symbol followed by the Q that companies pick up when they are delisted due to bankruptcy.
Many of them, in fact, were first drawn to Tesla by SolarCity, with its pile of debt and mountain of losses. "If it weren't for SolarCity, #TSLAQ wouldn't exist," says @TeslaCharts. He points out that Musk faced a catch-22 of sorts: If he hadn't bailed out SolarCity, his whole debt-laden empire might have cracked. Yet without the bailout, Tesla would be far more healthy. "When the history of Tesla is written," he says, "the acquisition of SolarCity will be seen as the moment where the narrative took a decisive turn."
Others shared @TeslaCharts' suspicions about Solar Roof. Robinson, who covers SolarCity for the Buffalo News, had flown to Los Angeles for Musk's presentation. Afterward, he asked an engineer for the company if the tiles Musk had pointed to were real. "Oh no," the engineer replied. "These are dummies. We just popped them up here to show you." Robinson wasn't outraged—it made sense that Musk would show a prototype—but he took note of the contrast between the rhetoric and the reality. "They made it sound like they had figured out how to get it to work," he says.
And Tesla continued to make it sound that way. In early 2018, the company announced that production of the Solar Roof had begun in Buffalo. That fall, Tesla told Bloomberg News it was "gearing up for tremendous growth in 2019. We have a product, we have the customers, we are just ramping it up to a point where it is sustainable."
But a few months later, in its quarterly letter, Tesla confessed that the product wasn't actually ready yet. "We continue to iterate," the company wrote. In a legal filing, Tesla acknowledged that the much-hyped technology it had acquired from Silevo wasn't all that it was cracked up to be. And last May, an investigation by Reuters revealed that most of the solar cells being produced in Buffalo were being sold overseas, not used in the Solar Roof, because demand was so low.
Customers who tried to purchase a Solar Roof took to Twitter to share their horror stories: Kevin Pereau, a California homeowner, said he paid a deposit of $2,000 to have a Solar Roof installed more than two years ago—then never heard from the company again. He got his money back only after he started tweeting at Musk every single day.
Musk, meanwhile, is still making promises. Last March, he proclaimed that 2019 would be the "year of the Solar Roof." In late July, he tweeted that Tesla is "hoping" to turn out 1,000 Solar Roofs a week by the end of the year. But even onetime believers have become doubters. The MIT Technology Review, which included the Solar Roof in its list of 10 "breakthrough technologies" in 2016, now calls it a "flop." In a recent analyst note, JP Morgan warned that Solar Roof will be a "niche" product at best. Musk has "sustained a kind of Kabuki theater in which the Solar Roof ramp is always imminent, but never here," wrote investor John Engle, a #TSLAQ member.
Another #TSLAQ member, a Yale-trained lawyer and investment manager named Lawrence Fossi, made a discovery while combing through SolarCity's financial statements. Without fanfare—and with no input from constituents—state officials had quietly issued a series of 10 amendments that watered down the requirements SolarCity must meet in exchange for the $1 lease on the Buffalo factory. The 1,460 "high-tech" jobs at the factory became just plain old jobs, as did the 2,000 jobs to support solar sales and installation in New York. The agreement to employ 900 people at the factory within two years shrank to 500. And the timing for the additional jobs was extended to 10 years after the factory was completed—at which point the lease would also be expiring. (Tesla argues that the company is now responsible for all 5,000 jobs, instead of being able to fulfill them through suppliers.) The governor's office declined to comment on who authorized the changes, and state officials have yet to provide any public explanation as to why they opted to let a big corporation like Tesla off the hook.
In fact, the Buffalo deal turned out to have been tainted by corruption from the very start. Just one day after Tesla finalized its acquisition of SolarCity, Preet Bharara, then the U.S. attorney for the Southern District of New York, announced criminal charges against a handful of Cuomo staffers for rigging the construction bids for the Buffalo Billion program to favor the governor's campaign donors. The man tapped by Cuomo to oversee the taxpayer subsidies, as well as a leading donor who received a $225 million contract to build out the Buffalo factory, were both convicted last year of conspiring to rig the bids
Lyndon and Peter Rive have both left SolarCity, and the company's original business of installing solar roofs has all but evaporated. The company once controlled two-thirds of the residential market; now, according to the consulting firm Wood Mackenzie, its share is less than 7 percent. In the second quarter of this year, SolarCity installed only 29 megawatts of solar panels—far below the 10,000 megawatts in annual installations that Musk had promised. "Total implosion" is how one SolarCity insider describes it.
Across the street from the factory in Buffalo stands a small building that houses a coffee shop and an office space. Both were built to cater to the plant, says Robinson, the Buffalo News editor. The coffee shop is surviving, but the office space is vacant. What few jobs do exist at SolarCity barely compete with the local grocery store. "For $750 million, we're getting jobs that pay $2 an hour more than Aldi's," says Robinson.
In a statement to Vanity Fair, Tesla argues that its jobs in Buffalo are competitive, especially when benefits and equity are factored in. It says it has expanded its operations at the factory to include "some of our most innovative and pioneering products." And it accuses the magazine of presenting a "one-sided view with cherry-picked sourcing aimed at feeding into the fear, uncertainty, and doubt being circulated about Tesla every day by those looking to gain from Tesla's losses."
But the level of secrecy surrounding the SolarCity plant may offer an additional indication of how bad things are. Tesla refused to allow me to take a tour, and former employees say a rare media event at the factory last fall was highly scripted. "They spent more time and resources trying to fabricate what people saw than they do making anything," says Witherell, who worked there at the time. "They told employees to pretend we were busy." A story aired last February by News 4 Buffalo described the shop floor as "torpid," with idle employees milling about. "They say they are in 'ramp up' mode," says Scott, the former employee. "But this isn't even start-up mode. What company spends two and a half years starting up something they were already supposed to be the best at?"
Last April, not long after he placed his late-night call to Scott, Elon Musk finally paid his first-ever visit to Buffalo. There was no press release, no triumphant post on social media, no meeting with reporters. Local authorities were in the midst of performing the genuine engineering feat of dismantling what's known as the "ice boom"—hundreds of steel pontoons, spanning over a mile and a half, that keep the massive amounts of ice on Lake Erie from floating down the Niagara River and jamming up hydropower turbines. After the visit, Musk continued his upbeat assessment of production. "We are looking forward to scaling up significantly through the balance of this year and into next," he said.
Musk's other proclamations in recent months have been far grander. He has promised that by next year, Tesla will be producing self-driving cars—and deploying a fleet of 1 million robotaxis. He has claimed that Neuralink, his secretive start-up, has developed a "thread" that can be inserted into the human brain, merging our minds with artificial intelligence. And he is seeking approval to build an underground "hyperloop" that will whisk passengers between Washington, D.C., and Baltimore in 15 minutes.
When Tesla bought SolarCity, it said the deal would "add more than half a billion dollars in cash to Tesla's balance sheet over the next three years." But it appears to have had the opposite effect. "I think it's a big source of the cash-flow deficit," says one longtime analyst. "I think it is a big thorn inside of Tesla." The company has paid back some of SolarCity's debt, including the Solar Bonds owed to Musk and SpaceX. But this fall, another $556 million is coming due. In a characteristic tweet, Musk once vowed he would "personally" repay the SolarCity debt if need be.
There may be another cost. By next April, Tesla is required to start paying an annual fine of $41.2 million if it fails to employ 1,460 people at the Buffalo plant. Tesla says it currently has 636 employees statewide in New York, including 329 at the plant, and that it has invested almost $400 million in New York. Engle, the TSLAQ member, argues that Tesla cannot afford to admit that SolarCity has been a fiasco, because doing so would open the company to significant liability in the ongoing lawsuit over the acquisition.
Officials in New York, meanwhile, appear to be taking belated steps to document what is really happening in Buffalo. Last spring, the state announced that it was auditing all of its high-tech programs, with a focus on Tesla. Everyone in Albany, says the longtime lobbyist, has accepted that the Buffalo plant is a "disaster"—a poster child for why government giveaways to big companies don't work.
But the official who took credit for the deal with Tesla—the man who championed the company as a Rust Belt savior—stands by his decision to place his trust in Elon Musk. Governor Cuomo, who paid his own visit to Buffalo last spring, declared that he's perfectly pleased with the progress at SolarCity. "They're ahead of schedule," he said.
All the tech moguls who have been connected to Jeffrey Epstein, the elite wealth manager who died in jail while as a boss in the tech moguls sex-trafficking
Elon Musk, CEO of Tesla and SpaceX
ELON MUSK AND EPSTEIN SEX CULT BOSS AT ONE OF MUSK'S MANY SEX PARTY ELITIST BASHES (ABOVE)
THE CRIMES AND PERVERSIONS OF ELON MUSK

It is a proven, widely documented, fact that Elon Musk suffers from Narcissistic Personality Disorder, including Borderline and Antisocial traits. His condition manifests itself in a variety of ways, including an addiction to drugs, frequent cocaine use (often with prostitutes, manic self-promotion, as well as violent, abusive and threatening behavior.
It is a proven, widely documented, fact that Elon Musk's father had sex with his children, got Elon Musk's sister pregnant and used his mother as a trophy wife. Musk's involvement with Jeffrey Epstein's underage sex cult, combined with Musk's appearance and sex events, combined with his use of young women in facade marriage "arrangements" calls his moral sanity into question.
In other proven and widely documented facts, it is clear that Musk runs a criminal tech cartel design to deploy corruption, bribery and monopolistic behaviors as a way of life.
Musk stepped down from the position in September in the wake of his infamous "funding secured" tweet, which led to a lawsuit from the Securities and Exchange Commission.
Musk was also photographed with Ghislaine Maxwell, who's been accused of being Epstein's madam, at the 2014 Vanity Fair Oscars Party in West Hollywood.
Marvin Minsky, MIT's "father of artificial intelligence"
MIT called Minsky, who died in 2016, the "father of artificial intelligence." He was one of the founding members of MIT Media Lab, which has innovated a trove of technological advances over the past thirty years, from touch screens to robotic prosthetics to GPS.
In a recently unsealed deposition published by The Verge earlier this month, a woman testified that she had been forced to have sex with Minsky at Epstein's compound in the US Virgin Islands.
The Verge said that while Minsky was known to be a part of Epstein's circle, the accusation is the first to tie Minsky to Epstein's sex-trafficking network.
WHY IS GOOGLE SUCH A BIG PART OF THESE CRIMES?:
Many under-cover videos and Congressional investigations have exposed the true purpose behind Google and the Silicon Valley Cartel: "...To manipulate politics, stock market valuations and government funds to their own nefarious ends..." ; it is time to bankrupt these criminal oligarchs! The victims had global character assassination and political propaganda-media defamation reprisal attacks operated against them by White House staff including Robert Gibbs, John Podesta, David Axelrod, Rahm Emanual, David Plouffe, Steve Rattner, Susan Rice, Valarie Jarrett, et al., and their political financiers: Elon Musk, Larry Page, John Podesta, Reid Hoffman, Vinod Khosla, David Plouffe, Steve Jurvetson, Tim Draper, George Soros, Jared Cohen, Steve Spinner, David Drummond, Eric Schmidt, Steve Westly, John Doerr, etc.
Elon Musk is the tech scammer who took over Tesla Motors from the founders of Tesla: Marty and Marc. Larry Page is the founder of Google. Elon Musk and Larry Page have a homoerotic bromance relation and share stock, assets, election financing, tax evasions, black-lists and Tesla promotions. In true anti-trust law violation: Page has Google destroy all of Musk's competitors on the internet while he promotes Musk hype to the top of all searches. It is illegal and unethical to rig the stock market, elections and the competitive market like Musk and Page do. The FBI, SEC, FEC, FTC and DOJ should indict them but they pay epic bribes to top agency officials in order to avoid prosecution!
There are common threads that run through an organization repeatedly relied upon in the so-called whistleblower's complaint about President Donald Trump and CrowdStrike, the outside firm utilized to conclude that Russia hacked the Democratic National Committee's servers since the DNC would not allow the U.S. government to inspect the servers.
One of several themes is financing tied to Google, whose Google Capital led a $100 million funding drive that financed Crowdstrike. Google Capital, which now goes by the name of CapitalG, is an arm of Alphabet Inc., Google's parent company. Eric Schmidt, the chairman of Alphabet, has been a staunch and active supporter of Hillary Clinton and is a longtime donor to the Democratic Party.
CrowdStrike was mentioned by Trump in his call with Ukranian President Volodymyr Zelensky. Perkins Coie, the law firm that represented the DNC and Hillary Clinton's campaign, reportedly helped draft CrowdStrike to aid with the DNC's allegedly hacked server.
On behalf of the DNC and Clinton's campaign, Perkins Coie also paid the controversial Fusion GPS firm to produce the infamous, largely-discredited anti-Trump dossier compiled by former British spy Christopher Steele.
CrowdStrike is a California-based cybersecurity technology company co-founded by Dmitri Alperovitch.
Alperovitch is a nonresident senior fellow of the Cyber Statecraft Initiative at the Atlantic Council, which takes a hawkish approach toward Russia. The Council in turn is financed by Google Inc.
In a perhaps unexpected development, another Atlantic Council funder is Burisma, the natural gas company at the center of allegations regarding Joe Biden and his son, Hunter Biden. Those allegations were the subject of Trump's inquiry with Zelemsky related to Biden. The Biden allegations concern significant questions about Biden's role in Ukraine policy under the Obama administration. This took place during a period when Hunter Biden received $50,000 a month from Burisma.
Besides Google and Burisma funding, the Council is also financed by billionaire activist George Soros's Open Society Foundations as well as the Rockefeller Brothers Fund, Inc. and the U.S. State Department.
Google, Soros's Open Society Foundations, the Rockefeller Fund and an agency of the State Department each also finance a self-described investigative journalism organization repeatedly referenced as a source of information in the so-called whistleblower's complaint alleging Trump was "using the power of his office to solicit interference from a foreign country" in the 2020 presidential race.
The charges in the July 22 report referenced in the whistleblower's document and released by the Google and Soros-funded organization, the Organized Crime and Corruption Reporting Project (OCCRP), seem to be the public precursors for a lot of the so-called whistleblower's own claims, as Breitbart News documented.
One key section of the so-called whistleblower's document claims that "multiple U.S. officials told me that Mr. Giuliani had reportedly privately reached out to a variety of other Zelensky advisers, including Chief of Staff Andriy Bohdan and Acting Chairman of the Security Service of Ukraine Ivan Bakanov."
This was allegedly to follow up on Trump's call with Zelensky in order to discuss the "cases" mentioned in that call, according to the so-called whistleblower's narrative. The complainer was clearly referencing Trump's request for Ukraine to investigate the Biden corruption allegations.
The so-called whistleblower's document, however, only mentions the largely unknown OCCRP and does not reference BuzzFeed, which has faced scrutiny over its reporting on the Russia collusion claims.
Another listed OCCRP funder is the Omidyar Network, which is the nonprofit for liberal billionaire eBay founder Pierre Omidyar.
Together with Soros's Open Society, Omidyar also funds the Poynter Institute for Media Studies, which hosts the International Fact-Checking Network that partnered with Facebook to help determine whether news stories are "disputed."
Like OCCRP, the Poynter Institute's so-called news fact-checking project is openly funded by not only Soros' Open Society Foundations but also Google and the National Endowment for Democracy.
CrowdStrike, The DNC servers and Silicon Valley ordered "Hit-Jobs" on American Citizens by Google
CrowdStrike, meanwhile, was brought up by Trump in his phone call with Zelensky.
According to the transcript, Trump told Zelensky, "I would like you to find out what happened with this whole situation with Ukraine, they say CrowdStrike … I guess you have one of your wealthy people…The server, they say Ukraine has it."
In his extensive report, Special Counsel Robert S. Mueller notes that his investigative team did not "obtain or examine" the servers of the DNC in determining whether those servers were hacked by Russia.
The DNC famously refused to allow the FBI to access its servers to verify the allegation that Russia carried out a hack during the 2016 presidential campaign. Instead, the DNC reached an arrangement with the FBI in which CrowdStrike conducted forensics on the server and shared details with the FBI.
"Google is a sick corrupt criminal business run by perverts and sociopaths..." SAY GOOGLE'S OWN STAFF!
- Google spies on competitors and steals their technology
- Google executives will lie to Congress, the FBI, The FTC and ANYONE to protect their scheme
- Google runs tens of millions of dollars of defamation attacks against competitors
- Google hides all media and news coverage for competitors of Larry Page's boyfriend: Elon Musk
- Google lies to the public about what they really do with the public's data
- Google promotes illegal immigration in order to get cheap labor and control votes
- Google runs VC funding back-lists against start-ups that are competitive
- Google bribes thousands of politicians
- Google is a criminal RICO-violating monopoly
- Google rigs the stock market with Flash-boy, Pump/Dump and Microblast SEC violating computer tricks
- Google pays bribes to politicians in Google and YouTube stock
- Google manipulates who gets to see what web-sites, globally, for competitor black-lists
- Google has a "no poaching" Silicon Valley jobs blacklist
- Google's Eric Schmidt was in the basement of Obama's campaign office the night of Obama's election rigging the web to manipulate voting procedures
- Google can DDOS and website by over-crawling the site. They claim they are just archiving their enemies site but the end result is a DDOS attack against political and business adversaries
- Google bosses sexually abuse women and young boys
- Google bosses run sex trafficking operations in the Epstein and NXVIUM cults
- Google bosses control the NVCA financing cartel over start-ups
- Google has placed the majority of the corporate staff in at least one White House
- Google controls national elections for anti-competitive purposes
- The company "Polyhop", in the HOUSE OF CARDS tv show, does all the crimes that Google actually does in reality
- Google's law firms, like Wilson Sonsini, are corrupt conduits for payola and political conduit-relays
- Google bribes some politicians with revolving door jobs
- Google is primarily responsible for destroying the Bay Area Housing opportunities
- Google runs DDoS attacks on competitors by massively crawling their sites
- Google boss Andy Rubin runs a sex slave farm according to his own family
- Google boss Eric Schmidt was a philandering sex-penthouse owner according to vast news articles
- Google executives hire so many hookers that one of them, Mr. Hayes, was killed by his hooker
- Google executives sexually abuse so many women that the women staff of Google walked out one day
- In the 2009 White House, you could not swing a cat without hitting a Google insider
- Google has paid covert bribes, PAC funds, real estate and search rigging payola to every CA Senator
- Google has paid bribes, through its lobby fronts, to halt FBI, SEC, FEC and FTC investigations of Google crimes
- Google was funded by the CIA, via In-Q-Tel, a so called "501 c3 charity" which was caught with tons of cocaine
- Google gets millions of dollars of taxpayer cash for spying on Americans inside the USA
- Google's map service was a spy system paid for by taxpayers money that Google now profits off of
- Nancy Pelosi and Dianne Feinstein have promised to "protect" Google because their families profit off Google stocks
- Payment receipts prove that Google and Gawker/Gizmodo exchanged cash and staff for Character Assassination attacks
- Google VC's and bosses have spent $30M+ rigging the U.S. Patent Office to protect Google and harm Google competitors
- Google bribed it's lawyer into position as head of the U.S. Patent office in order to have her protect Google
- To rig insider stock trades, Google hides negative Tesla stories and pumps positive Tesla stories on "push days"
- Google and Elon Musk Co-own, co-invest and co-market stocks covertly while running anti-trust schemes
- Google rarely likes, or hires, black employees per federal and news media investigations
- Google hired most of the Washington, DC K Street lobby firms and told them to "do what ever they could"
- The film: "Miss Sloane" depicts only 2% of the illicit lobbying tactics Google employs daily
- Demands for an FTC and FBI raid of Google, for criminal activity, securities law and election felonies have been filed
- Google's David Drummond had his Woodside, CA Quail Road house bugged revealing sex and financial misdeeds
and so much more...
Google, and it's Cartel (Alphabet, Youtube, and hundreds of other shell-company facades) are a criminal organization engaged in felony-class crimes. Google's bosses bribe politicians, regulators and law enforcement officials to hold off prosecution. At Google: Kent Walker, Andy Rubin, Larry Page, Eric Schmidt, Sergy Brin, Jared Cohen, Yasmin Green, David Drummond and Ian Fette are so enmeshed in sex scandals, election manipulation, and White House bribes that it is hard to comprehend how they can get any legitimate work done. Between all of the sex cult activity; hookers; rent boys; political bribes to Pelosi, Harris, Newson, and Feinstein; DDoS attacks they run; CIA and NSA stealth deals; privacy harvesting; Scientology-like employee indoctrination; cheap Asian labor; covert Axciom scams and other illicit things they get up to; one just has to wonder.
Some of the largest political bribes in American or European history were paid via billions of dollars of pre-IPO cleantech stock, insider trading, real estate, Google search engine rigging and shadow-banning, sex workers, revolving door jobs, nepotism, state-supported black-listing of competitors and under-the-table cash. Why are these Silicon Valley Oligarchs and their K-Street law firms and lobbyists immune from the law?
"Google is designed to be digital Scopolamine Devil's Breath for the masses. Under the influence, voters will do things they would not otherwise believe they could be made to do. The tactic hides itself in plain sight..."

- Senior CIA Operations Director
More Proof Of Google Manipulating Elections and News From 2007 Forward:
https://videos.whatfinger.com/2019/08/16/prager-u-google-insider-exposes-google-blacklists/
https://twitter.com/JamesOKeefeIII/status/1161989799902941184?s=20
http://allnewspipeline.com/Breaking_Up_Big_Tech_Bias_And_Censorship.php

https://www.newsbusters.org/blogs/techwatch/alexander-hall/2019/08/15/googleyoutube-rigged-news-and-video-results
https://amgreatness.com/2019/08/14/google-whistleblower-goes-public-something-dark-and-nefarious-going-on-with-the-company/
https://www.wnd.com/2018/09/google-manipulates-25-of-worlds-elections/
https://www.conservativedailynews.com/2019/06/more-proof-that-google-is-manipulating-our-elections/
https://www.zerohedge.com/news/2018-04-26/research-shows-googles-search-manipulations-tried-rig-election-hillary
A new study by Professor Robert Epstein has revealed that Google manipulated both the 2016 and 2018 elections via search results to sway the perception of the average user, so much so that between 2.6 million and 10 million votes were given to Hillary Clinton due to their interference during the 2016 Presidential elections.
During the Senate hearing, Professor Epstein's testimony was published on the Judiciary Senate website, revealing Google's behavior manipulation and how this affected the recent elections taking place in America. In the study, Professor Epstein wrote…
"In 2016, biased search results generated by Google's search algorithm likely impacted undecided voters in a way that gave at least 2.6 million votes to Hillary Clinton(whom I supported). I know this because I preserved more than 13,000 election-related searches conducted by a diverse group of Americans on Google, Bing, and Yahoo in the weeks leading up to the election, and Google search results –which dominate search in the U.S. and worldwide –were significantly biased in favor of Secretary Clinton in all 10 positions on the first page of search results in both blue states and red states."
During the Senate hearing with Ted Cruz, Epstein also explained that the 2.6 million count was a minimum figure.
The video of Epstein's testimony was posted on the Senator Ted Cruz YouTube channel, which you can check out below.
LINKS:
http://www.videonet111.com

http://nationalnewsnetwork.net
The relevant part of Epstein's speech takes place at the tail end of the video, where he corrects Senator Cruz about how widespread the manipulation was during the 2016 elections by Google, stating…
"The 2.6 million [votes] is a rock bottom minimum. The range is between 2.6 and 10.4 million votes, depending on how aggressive they were in the techniques that I've been studying, such as the search engine manipulation effect, the search suggestion effect, the answer bot effect, and a number of others. They control these and no one can counteract them. These are not competitive. These are tools that they have at their disposal… exclusively."
But it wasn't just the 2016 elections that have been affected. According to Epstein's research report, Google may have been manipulating national elections since 2015.
Epstein's research further postulates that Google isn't just manipulating elections but also in the business of social engineering to alter people's behavior through autocomplete suggestions and similar technologies.
He also noted that Google may have manipulated up to 78 million votes across the nation during the 2018 mid-term elections, writing in the report…
"On Election Day in 2018, the "Go Vote" reminder Google displayed on its home page gave one political party between800,000 and 4.6 million more votes than it gave the other party. Those numbers might seem impossible, but I published my analysis in January 2019 (https://is.gd/WCdslm) (Epstein, 2019a), and it is quite conservative. Google's data analysts presumably performed the same calculations I did before the company decided to post its prompt. In other words,Google's"Go Vote" prompt was not a public service; it was a vote manipulation.

"In the weeks leading up to the 2018 election, bias in Google's search results may have shifted upwards of 78.2 million votes to the candidates of one political party(spread across hundreds of local and regional races). This number is based on data captured by my 2018 monitoring system, which preserved more than 47,000 election-related searches on Google, Bing, and Yahoo, along with the nearly 400,000 web pages to which the search results linked. Strong political bias toward one party was evident, once again,in Google searches(Epstein & Williams, 2019)."
Basically, Google is socially engineering the outcomes of our nation, and it's happening right under everyone's noses. They used the Russian fake news hoax to hide their own corruption, especially with the help of the mainstream media, who had also been working behind-the-scenes to put Clinton into office, as revealed by the leaked e-mails from Wikileaks.
A user going by the handle of TrueSympathy on KotakuInAction2 explained that this isn't just a issue of election fraud but also a serious antitrust violation, writing…
"This is beyond an anti-trust case at this point. Billions of dollars of in-kind donations going towards the Democrats that were undeclared and hidden. The amount of money needed to turn a 50/50 vote into 90/10 would be absolutely absurd for a candidate to spend in terms of an entire nation. Google can do this and they get paid for it. Call your congressmen and voice your concern, because if they aren't brought to heel before 2020 they will go all in to get someone in who'll let them off the hook."
In short, Google is not only censoring the search results and shadow-banning websites, they're also attempting to rig elections.
There are millions of pages of evidence and eye-witness testimony proving these assertions but Google's lobbyists bribe Senators to keep the truth hidden! Barack Obama could not have become President without Google's epic election manipulations and public information manipulations.
-------------------------------------------------------------------
HOW YOU ARE GOING TO EXPOSE, BLOCKADE AND OUTLAW EVERY SINGLE BRIBERY PAYMENT TO CORRUPT POLITICIANS:
Did you know that 85% of every dime you earn is affected by political bribery?
Political corruption is the use of powers by public officials, their network contacts, or the coordination of such corruption by Silicon Valley oligarchs, or VC's, for illegitimate private gain.
Forms of corruption vary, but include bribery, extortion, cronyism, nepotism, parochialism, patronage, influence peddling, graft, and embezzlement. Corruption may facilitate criminal enterprise such as drug trafficking, money laundering, and human trafficking, though it is not restricted to these activities. Misuse of government power for other purposes, such as repression of political opponents and general police brutality, is also considered political corruption. Masiulis case is a typical example of political corruption.
Over time, corruption has been defined differently. For example, in a simple context, while performing work for a government or as a representative, it is unethical to accept a gift. Any free gift could be construed as a scheme to lure the recipient towards some biases. In most cases, the gift is seen as an intention to seek certain favors such as work promotion, tipping in order to win a contract, job or exemption from certain tasks in the case of junior employee giving the gift to a senior employee who can be key in winning the favor.[1]
Some forms of corruption – now called "institutional corruption"[2] – are distinguished from bribery and other kinds of obvious personal gain. A similar problem of corruption arises in any institution that depends on financial support from people who have interests that may conflict with the primary purpose of the institution.
An illegal act by an officeholder constitutes political corruption only if the act is directly related to their official duties, is done under color of law or involves trading in influence. The activities that constitute illegal corruption differ depending on the country or jurisdiction. For instance, some political funding practices that are legal in one place may be illegal in another. In some cases, government officials have broad or ill-defined powers, which make it difficult to distinguish between legal and illegal actions. Worldwide, bribery alone is estimated to involve over 1 trillion US dollars annually.[3] A state of unrestrained political corruption is known as a kleptocracy, literally meaning "rule by thieves".
Investigations by the United States Congress have shown that The U.S. Department of Energy, SSA, HUD, IRS, EPA, and other agencies, are used as political slush funds to pay back (In Plain Sight) campaign finance millionaires.
Corrupt politicians steer payola to campaign financiers while blockading the Silicon Valley oligarch's competitors from reaching the market or receiving funding. Jury and FBI-compliant evidence proves this as fact. The White House has total and covert control over those agencies and can order any federal agency to screw over any voter if that citizen "mouths off". The Lois Lerner case, and thousands of similar cases, prove that!
In every case, the only entities who participated in the global character assassination and propaganda-media defamation reprisal attacks were those entities owned and controlled by the attackers. Jury and FBI-compliant evidence proves this as fact. Follow-the-money and the proof is quite clear.
The suspects have hired the largest numbers of lobbyists and corporate manipulation lawyers in U.S. history in order to manipulate political decisions. Jury and FBI-compliant evidence proves this as fact.
The suspects have spent more money on political bribes than any group of men has spent in the last century. Jury and FBI-compliant evidence proves this as fact.
The suspects placed top federal law enforcement and agency bosses from their own Cartel, into top government positions, with orders to run cover and protection schemes for them. Jury and FBI-compliant evidence proves this as fact.
California State officials including the Governor, Controller, The Senators, Secretary of State and regional officials participated in these crimes and pocketed the initial profits from these crimes in covert investment banking. Jury and FBI-compliant evidence proves this as fact.
Tesla Motors, Google, Netflix, Facebook, Linkedin, Amazon and other tech Cartel members operate with a common goal of psychological mass ideology manipulation and monopolistic profiteering based on government sponsored anti-trust violations and server control exclusivity. Jury and FBI-compliant evidence proves this as fact.
The Silicon Valley oligarchs campaign contributions to individual federal candidates are well-documented, with each contribution limited to $2,700 (of visible cash) per cycle to each candidate or their personal political action committee.
WE KNOW HOW EACH POLITICIAN IS BRIBED!
WE KNOW WHO BRIBES EACH POLITICIAN!
WE KNOW WHICH INTERMEDIARIES THE BRIBES ARE PAID THROUGH!
THIS IS HOW THEIR BRIBES WORK:
But political influence from outside groups, for example via Google's massive army of lobbyists and crooked law firms, is far more than just cold hard cash in the form of direct campaign contributions. A large portion of the people who run political election programs, ie: "Campaign Managers" are no more than mobsters who run various financial shake-down and transparency evasion efforts.
The Washington Post reports on many bribery matters, for example, that the Palo Alto Mafia of High Tech billionaires has donated less than $4 million publicly visible dollars to members of Congress in the last 18 years.... BUT.. In an era where some Senate races cost nearly $100 million, $4 million seems like very little.
Here are other ways the Palo Alto Mafia of High Tech billionaires bribe their way into policy and politics:
BRIBE: The Palo Alto Mafia of High Tech billionaires also give to party committees and the national party. A maxed-out donation to the national party quickly increases campaign spending to more than $100,000. Any organization – or person – can also give $33,400 to a party committee. Finally, state and local parties can each receive a $10,000, quickly allowing campaign finance totals to sour to nearly half-a-million dollars.
BRIBE: While the organization has to follow campaign limits, its members can make their own political donations, also following campaign finance limits noted above. But with millions of members, political clout builds quickly. The Palo Alto Mafia of High Tech billionaires have people like Steve Spinner and Steve Westly who use computerized manipulation systems to get members to over donate.
BRIBE: The Palo Alto Mafia of High Tech billionaires has a politically active membership on the social networks they own. With more than five million members, the Facebook and Google constantly communicates with its members about immigration and climate issues that affect the Palo Alto Mafia of High Tech billionaires stock market holdings and advising them how to vote. The organization is also constantly increasing its voter rolls by registering people to vote.
BRIBE: The Palo Alto Mafia of High Tech billionaires also activates its membership when elected officials are facing climate-related legislation, resulting in phone calls and emails and letters to Congress. In addition, lawmakers' votes are noted and advertised to their issue-oriented membership.
BRIBE: The Palo Alto Mafia of High Tech billionaires has its a massive number of their own super PAC's and 501c4 political organization which can run hundreds of their own political campaigns. The groups combined spent more than $40 million in the midterm elections on Senate and Congressional candidates, according to the Center for Responsive Politics. A lot of that money was spent on political advertising on television, radio and digital, and on direct mail.
BRIBE: The Palo Alto Mafia of High Tech billionaires tip off Senator's staff as to which stocks to have their Goldman Sachs brokers buy and which laws to manipulate that will pump those stocks that the families of Sen. Reid, Harris, Pelosi, Feinstein, etc. have already insider traded. Why do you think Nancy Pelosi and Dianne Feinstein have $100M in their bank accounts from only a $170K per year salary? (ie: If Tesla Motors went bankrupt would Nancy Pelosi and Dianne Feinstein, who own covert stock in Musk's companies, go bankrupt?)

BRIBE: Political attackers spend over $30M, part of that using taxpayer resources, attacking each victim that exposes them. This is proven in the financial transaction records from hired attackers: Google, Gawker, Deadspin, Gizmodo, Jalopnik, Think Progress, Media Matters, Facebook shadow-banning, troll farms, Media Matters, Black Cube, Fusion GPS, et al. (All of whom are now being forced out of business by federal and public investigations). Jury and FBI-compliant evidence proves the assertions. Hiring services, that wipe out a Senator's adversaries, is an overt form of bribery and Dark Money financing by Oligarchs.
BRIBE: There are hundreds of other such examples. We witnessed these crimes, frauds and political money laundering actions but the FEC, FBI, DOJ, FTC and others refuse to arrest the suspects because the suspects share business ventures with regulators and law enforcement executives!!!
Certain California State officials, Obama White House Staff and Federal Agency staff accepted bribes from Silicon Valley Oligarchs and Investment Bank Cartels. They were bribed with: Billions of dollars of Google, Twitter, Facebook, Tesla, Netflix and Sony Pictures stock and stock warrants which is never reported to the FEC; Billions of dollars of Google, Twitter, Facebook, Tesla, Netflix and Sony Pictures search engine rigging and shadow-banning which is never reported to the FEC; Free rent; Rare-Earth mining rights; Male and female prostitutes; Cars; Dinners; Party Financing; Sports Event Tickets; Political campaign printing and mailing services "Donations"; Secret PAC Financing; Jobs in Corporations in Silicon Valley For The Family Members of Those Who Take Bribes And Those Who Take Bribes; "Consulting" contracts from McKinsey as fronted pay-off gigs; Overpriced "Speaking Engagements" which are really just pay-offs conduited for donors; Gallery art; Private jet rides and the use of Government fuel depots (ie: Google handed out NASA jet fuel to staff); Recreational drugs; Real Estate; Fake mortgages; The use of Cayman, Boca Des Tores, Swiss and related money-laundering accounts; The use of HSBC, Wells Fargo, Goldman Sachs and Deustche Bank money laundering accounts and covert stock accounts; Free spam and bulk mailing services owned by Silicon Valley corporations; Use of high tech law firms such as Perkins Coie, Wilson Sonsini, MoFo, Covington & Burling, etc. to conduit bribes to officials; and other means now documented by us, The FBI, the FTC, The SEC, The FEC and journalists.
Senior White House staffer Steve Rattner was indicted for stock market securities fraud, Former President's campaign manager and Uber executive David Plouffe has been fined $90,000 for illegally bribing Chicago mayor Rahm Emanuel (Obama's former Chief of Staff, on behalf of the ride-hailing company, the Chicago Tribune reports.
In another case, White House buddies Marty Nesbitt and Harreld Kirkpatrick III formed a private equity investment firm called Vistria created to interface to the 2012 election.
A curious pattern began to emerge. The White House administration would attack industries with government power, which led to substantially lower valuations for these companies. Nesbitt and Vistria, or others close to the White House, could then acquire those assets for pennies on the dollar. For example: The for-profit higher education schools like University of Phoenix, ITT Technical Institute, and DeVry University; In 2013, White House staff blamed the schools for taking advantage of students by saddling them with student debt, ruining their credit and making a profit on it. The White House ordered the Federal Trade Commission to go after them. In the case of the University of Phoenix, its parent Apollo Education Group was suspended after a Federal Trade Commission investigation in 2015. The following year, three companies, including Vistria, swooped in to buy what remained of Apollo at a price 90% below its share price before the investigation. As Vistria's education investment portfolio bulged, a number of White House Education Department officials, including Secretary of Education Arne Duncan, ended up taking high-level jobs with Vistria.
In another instance both the Vice President and Secretary of State were deeply involved in trade and security talks with China even as that country began its aggressive campaign to expand its military and physical presence in the South China Sea. Contrary to standard diplomatic practice, however, both played "good cop," not seriously confronting China on its misbehavior. These two officials were close friends from their years spent together in the Senate. Their families went into business together in 2009. They created a number of equity and real estate investment firms allied to Rosemont Capital, the alternative investment fund of the Heinz Family Office. Over the next seven years, as the Vice President and Secretary of State negotiated sensitive and high-stakes deals with foreign governments, Rosemont entities secured a series of exclusive deals with those same foreign governments. In December of 2013, for instance, when one of those politicians traveled to China for talks. He brought his family along. While there, the father soft-pedaled China's clear aggression, and played up the bilateral trade partnership. Ten days after the trip concluded, China's central bank, the Bank of China, set up a $1 billion investment joint venture called Bohai Harvest RST. For the record, the "RS" referred to Biden's son's firm, Rosemont Seneca.
That's questionable enough; But months later, in July 2014, the Secretary of State traveled to China, also for talks. He talked little of China's clear aggression, but did conspicuously note that "China and the United States represent the greatest economic alliance trading partnership in the history of humankind." He should know. In the ensuing months, Chinese government-linked firms took major stakes in several of the firms owned or controlled by their family, and provided them with massive funding totaling billions of dollars. Nor is this the only scandal involving these guys.
While we can provide hundreds of thousands of such examples, it is up to YOU, as a citizen, to call these public figures (who are your EMPLOYEES) to task when it occurs and remove them from office in special elections, mid-term.
-----------------------------------------------------
This is a chart of the essence of the criminal cycle of corruption engaged by Silicon Valley oligarchs and the Senators and public officials they own:

Google's Larry Page Proves, Yet Again, That He Is All BS And No Substance As His Election Rigging And Flying Cars Crash
- Page is Elon Musk's bromance boyfriend and they rig elections, campaign finance, stock markets and sex parties together
- His billionaire balloon ride project in NASA's Silicon Valley blimp hanger is a disaster
- Larry Page helps run a Silicon Valley organized tech crime empire: http://dig-innovations.net and https://vcracket.weebly.com and https://www.thecreepyline.com and http://nationalnewsnetwork.net and http://londonworldwide.com
- Page steals his ideas from small inventors and then finances U.S. Patent Office blockades against those inventors per http://invent111.com
- Page sneaks around at tech events to steal ideas: https://www.nytimes.com/2016/01/24/technology/larry-page-google-founder-is-still-innovator-in-chief.html
In 2017, success seemed to be just around the corner for Kitty Hawk, the secretive flying car company that's bankrolled by Google co-founder Larry Page and run by Sebastian Thrun, the Stanford AI and robotics whiz who had launched Google's self-driving car unit. Kitty Hawk had just shown off a prototype of the Flyer, a single-seat, battery-powered aircraft intended to be a low-altitude fun machine for use over water, like a jet ski on rotors, with handling that would make flying as easy as driving. "I'm excited that one day very soon I'll be able to climb onto my Kitty Hawk Flyer for a quick and easy personal flight," Page said at the time. The startup promised to put Flyer in eager buyers' hands by the end of the year.
Late that year the Mountain View, California-based company also began flight-testing a more ambitious project in New Zealand: a two-seat electric self-flying taxi called Cora that Kitty Hawk says will enable city dwellers to soar over gridlocked streets. "Just imagine travelling at 80 miles an hour in a straight line at any time of day without ever having to stop," Thrun told the Guardian a few months after Cora was unveiled. "It would be transformational to almost every person I know."
Two years later, however, Kitty Hawk's promise to bring personal flying to the masses has failed to take wing yet amid technical problems and safety issues with Flyer and unresolved questions about its practical use, according to four former Kitty Hawk employees who were among six who spoke to Forbes on the condition of anonymity due to non-disclosure agreements. At the same time, it may have given up control of Cora, sources suggest.
Kitty Hawk confirmed to Forbes that, after unveiling a more polished version of the Flyer last year, it has decided not to sell the one-seater to individuals and has returned deposits to would-be buyers. Behind closed doors, Flyer encountered problems, including frequent breakdowns and fires involving batteries, electric motors and wiring, two former engineers said. Last year, the Mountain View Fire Department was called to put out an early morning blaze at the Flyer building, city records show; former employees said the fire at the Google-owned building involved damaged batteries that had been pulled out of a Flyer that had crashed the previous day in flight testing under remote operation.
"No person has ever been harmed or exposed due to undue risk in over 26,000 test flights with over 100 prototype vehicles," wrote Shernaz Daver, an advisor to Kitty Hawk, in an email response to a list of questions sent by Forbes. She did not comment directly on the fires or reports of breakdowns or problems with its batteries.
Intent on bringing Flyer to market quickly, management in several instances brushed off workers who expressed worries that problems with the aircraft could endanger passengers, two former employees say. At least two members of the flight test team were let go after questioning the safety of the aircraft, they say, and some other members of the Flyer team who spoke up quit or jumped to another program at Kitty Hawk. Those individuals declined to comment when reached by Forbes.
"It was a pattern — if you talked about safety you were done, so you just didn't," said one former employee. "That's just how it had to be if you wanted to keep getting a paycheck."
Daver did not directly comment on reports of employee departures, but said employees at Kitty Hawk are required to report safety-related issues to their managers, or through a confidential digital channel directly to the general counsel and human resources, and can anonymously discuss safety concerns with an external safety director.
Kitty Hawk got off to an earlier start than many of the scores of startups now attempting to build electric urban air taxis, and the deep pockets of Page, who has a nearly $60 billion fortune, have been a huge advantage, enabling the company to hire hundreds of engineers, machinists and designers to create cutting-edge aircraft. However, the company faces the same problems as any aspirant in the field: the poor energy density of the current generation of batteries severely limits the flight times and carrying capacity of electric aircraft, and building a functioning prototype is faster and easier than turning it into a reliable product that satisfies aviation regulators' safety requirements. In the case of urban air mobility, many of the requirements don't yet exist.
These challenges may explain why a strategic partnership with Boeing announced in June could go much deeper than publicly announced. Public filings and organizational shifts at Kitty Hawk described by former employees indicate that there's been a change of control of the Cora program, and Boeing seems the likely acquirer. The jetmaker and Kitty Hawk declined to comment.
That would leave Kitty Hawk with two other aircraft: Flyer and Heaviside, an autonomous winged one-seater unveiled in October that, in an attempt to solve the noise problem that has made heliports unwelcome neighbors, was designed to be 100 times quieter than helicopters, as well as faster. The company has shelved the idea of marketing Flyer aircraft as a recreational device and is exploring commercial options, perhaps running it as a kind of aerial ferry.
"We have moved to seeing it as a transportation service and not as a vehicle for individual purchase," said Daver. "It is going to be a ride sharing model for transportation services."
---
Larry Page began dabbling in aviation in 2010, quietly funding a company called Zee.Aero led by a Stanford aerospace professor, Ilan Kroo, near the Google campus. The original vision was to produce a literal flying car , with folding wings so it could fit inside a home garage, but that was quickly abandoned as impractical, and Zee went on to try other designs, including one registered with FAA under the name Mutt because of its marriage of new elements with an older configuration. It tested a piloted electric aircraft that the company considered selling as a kit to be assembled by buyers. Eventually Zee decided the plane should be developed into a pilotless air taxi, now dubbed Cora.
In 2015 Page set up another stealth startup next door to Zee.Aero and called it Kitty Hawk after the tiny coastal village in North Carolina's Outer Banks where the Wright brothers tested their own flying experiments. The modern-day Kitty Hawk was run by Thrun, who previously directed Google's moonshot R&D program and founded online education company Udacity. It tinkered with a series of concepts, including a complicated scheme to suspend a pod from aircraft by tethers that could pick up a person or cargo on the ground while the aircraft circled overhead.
Eventually Kitty Hawk, which went on to absorb Zee.Aero, embarked on a mission to be the first to get an electric passenger aircraft to market that could take off and land vertically. Thrun wanted a small team to work fast and creatively, using as many off-the-shelf components as possible, according to former employees. "The term thrown around was we were the cowboys of Kitty Hawk, we were doing crazy stuff," says one.
Kitty Hawk's Flyer, as the project came to be called, was intended to be small enough to avoid safety certification altogether, weighing in under 254 pounds so it could qualify under Federal Aviation Administration rules as an ultralight, a category of aircraft that's long been the province of hobbyists and tinkerers. Operation of ultralights is restricted – they can't be flown over populated areas or at night — but ensuring the aircraft is safe is left up to the maker.
With an engineering team fewer than 20, Flyer made rapid progress. Kitty Hawk offered a rare peek behind the curtain to the New York Times in 2017, showing off what appeared to be a motorcycle on a spiderweb with eight downward-facing rotors.
Then in 2018 it started giving a small number of media test rides at Lake Las Vegas of a more finished vehicle with a composite frame with a constellation of 10 upward-facing rotors around it.
Though Flyer was capped to 10 feet in altitude and 20 mph in speed, and said it was intended to be flown over water, for safety, the company was presenting it as a thrill ride, putting up web pages to take applications for the first production models from individuals and potential fleet operators like amusement parks or resorts. The YouTube personality Casey Neistat gave it a try, publishing a video that was watched 2.2 million times in which he shouts happily while banking and spinning Flyer around the lake.
But Flyer wasn't ready to thrill: the latest prototype was breaking down frequently and needed regular troubleshooting and repair by engineers, three former employees say. "This thing would break every few hours and need service," said one. Kitty Hawk did not respond to questions about Flyer's reliability.
Among the failures were a series of fires during its development. To save on weight, two former employees say that engineers dispensed with the protective shielding commonly used between lithium-ion battery cells in cars, bundling cells together with tape, increasing the risk that if one ignited, others would catch on fire, too. Only recently did the Flyer program get its own battery expert on staff, one former employee says.
Over the last six months, the Flyer program has gone through a reset, former employees say. The focus has been on improving reliability rather than iterating on the design, and on finding a use for the vehicles.
"Kitty Hawk doesn't start from the principle of what's the economically viable thing we're going to build. It engineers something to solve a problem and then it's 'OK, here's a cool thing we built, what can we do with it?' " said an ex-employee who was among a wave of departures from the Flyer program this year.
The latest idea: that Kitty Hawk would operate Flyer as a service. The company has scouted out cities where it could offer point-to-point rides across bodies of water, which would make for a more forgiving surface to come down on in the event of a crash, two former employees say. And riders will no longer have the freedom to take Flyer for a joyride, they say: the flight path will be automated. Kitty Hawk has applied for a permit in Jersey City, New Jersey, to develop a floating dock and hangar for a potential route across the Hudson River to Manhattan, and is exploring a route across San Francisco Bay, according to local media.
It's unclear how Flyer would be regulated in such a use, with one grey area being whether it would be treated as a boat traveling above the water or a low-flying aircraft.
Kitty Hawk has reached out to the U.S. Coast Guard to ask how it would classify Flyer, a Coast Guard spokesman said. "We are taking a deliberate look at determining what these vehicles are, as that determination will set precedence for years or decades to come regarding their place in the marine transportation system."
---
The company's other major program, Cora, also faces daunting regulatory hurdles. Boeing might be the one to see it through.
In June, Boeing and Kitty Hawk announced a strategic partnership that they said would "bring together the innovation of Kitty Hawk's Cora division with Boeing's scale and aerospace expertise." Public records and changes at the company suggest it goes deeper than that.
In May, Kitty Hawk general counsel Molly Abraham made a filing in Delaware to incorporate a company under the name of Cora Aero at the same address as Kitty Hawk; a November filing lists Cora Aero's CEO as Gary Gysin, the former head of Liquid Robotics, a developer of wave-powered autonomous watercraft. His LinkedIn profile states he's head of a stealth mode startup.
Former Kitty Hawk employees said that around the time the Boeing partnership was announced, access to the Cora building, which had contained a cafeteria and reception area shared by all, was abruptly restricted to workers only on that program, and IT, HR and other back office workers were divided between Cora and Kitty Hawk. Several said they believe Boeing is now in control of Cora.
Hard yards lie ahead for Cora in New Zealand, where Kitty Hawk chose to try to win safety certification due to enticing features of the country's air safety code, which promises to allow the company to collaboratively define airworthiness standards with that country's Civil Aviation Authority. Additionally, a unique provision of the regulations permits "adventure flights" by aircraft that don't have standard safety certifications, such as vintage warbirds, which could allow Kitty Hawk to launch a revenue-generating passenger service before Cora is fully certified, said James Lawson, an aerospace safety consultant who previously consulted with Kitty Hawk on Cora when the company was considering pursuing certification in the U.S.
Cora is hand-built, largely of custom components made in-house, and still at the stage of proving out its technology, former employees on that program said. Another version needs to be constructed with safety systems, weatherproofing and passenger comforts, and that's designed to be easily manufacturable. Those final, long and painstaking steps promise to be a tall hurdle for many of the urban air mobility startups as they try to transition from Skunk Works-type inventors to real businesses, said Lawson – and it could account for the bulk of the spending.
"The technology is one thing, but 80% of the effort is in productizing and building an aircraft that can be certified," said Lawson.
With reporting by Biz Carson
Follow me on Twitter. Send me a secure tip.
Elon Musk's 'Pedo Guy' Trial Shows the Depth And Danger of Musk's Own Sociopath Mythos
Almost always, Elon Musk gets a pass. Elon Musk is excused when he errs or blunders because he is rich—stupid-rich, No. 23-on-the-Forbes-list rich—and because he is doing Big Things with his wealth, like colonizing space and building unprofitable and impractical but social-media-friendly electric cars.
Someone this successful, this good at earning free and fawning press, must surely be doing something different than peons like you and me—something better—and so, when Elon Musk does something that is quantifiably rash, half-assed, or catastrophically dumb, you are encouraged to unbelieve your own eyes. No, that wasn't a boneheaded comment, a juvenile lark gone wrong or a very bad and not funny attempt at a "joke." That was a six-dimensional chess move, a sophisticated misdirection—or, something. You just couldn't see it!
SEE ALSO: Tesla CEO Elon Musk Reveals His Unique Business Habits
The big problem with this wealth-fueled Elon Musk mythos is that Elon Musk is also susceptible to its spell. Elon Musk is so very often right—look at the proof! Here is everyone saying so—that Elon Musk cannot admit it, to himself or anyone else, when he is so very obviously and egregiously wrong.
That is one theory to explain why Musk has spent the last two days in a Los Angeles courtroom defending himself in a defamation case, the subject of a lawsuit after he very publicly called a man—whom he'd never met, but whom he was having a public dispute via the media—a pedophile, a baseless allegation made in a furious red mist of wounded pride that is now costing him, and us, time and money.
Oh, but that's not what Elon Musk actually said, or meant, we are now expected to believe. When Elon Musk referred to Vernon Unsworth, a British expatriate living in Thailand and an expert cave diver assisting with the rescue of a group of Thai boys stranded in the Tham Luang cave complex in the summer of 2018, as a "pedo guy"—the retort Musk managed to cook up after an exasperated Unsworth said Musk's attempt to hijack the rescue with a cave submarine was a ludicrous PR stunt—he just meant that Unsworth was a "creepy old guy," he tried to tell the court. Pedo means something else for South Africans (quick: name someone else from South Africa who is not Nelson Mandela), we were told.
Elon Musk spent three hours in court on Tuesday trying to argue the meaning of words, attempting to convince rational human beings on a jury that the way he used a word is different than the way the rest of us would use it. This exercise, and the rest of it—actually getting to trial, rather than trying to settle, as most people caught dead to rights doing something wrong (or at least actionable) would do—came after Musk tried to dig his way out rather than admit defeat.
Last summer, after his spat with Unsworth, Musk hired a private investigator to see if Unsworth, who is married to a prominent Thai woman from the Chiang Mai area—an area that Musk apparently discovered has some connection to child sex trafficking after some Googling—in fact, actually fancied boys, like Musk publicly suggested.
That the private investigator was a con man—and that there is no evidence Unsworth is a "pedo guy"—doesn't seem to matter. Elon Musk was taken in by someone willing to play Musk's own mythos against him. Then, after he was swindled, he just kept on digging. He told a prominent cybersecurity expert that the allegation was true. He then sent an email to a Buzzfeed News reporter in which he called Unsworth a "child rapist," and in which he said he hoped "Unsworth fucking sues" him.
Elon Musk built a myth out of whole cloth in a moment of pique and then, with an allegedly cooler head, tried to build a shirt factory out of it. Elon Musk does not know when to quit, Elon Musk cannot admit he is wrong and Elon Musk is perfectly content to sacrifice other peoples' time and reputation on the altar of his own hubris.
Attractive framings for this imbroglio abound. Attorney Alex Spiro, representing Musk, referred to his client's dispute as "a fight between men." Writing in The Guardian, Julia Carrie Wong described yesterday's proceedings as a forum for the "fragility of male egos," the stage for a pair of rutting rams to create a noisy distraction that serves only as a monument to their senses of self. Maybe—it's possible that Unsworth, were he not so peacock-proud, could have just shrugged the whole thing off. But in our analysis, the one asteroid-sized ego so large it is capable of altering the tides, or at least the course of Elon Musk's actions, is Musk's alone.
What set Musk off was Unsworth giving an interview to CNN in which he disparaged Musk's submarine solution. He watched it two or three times, Musk told the courtroom, and then fired off his angry tweets. More than a year later, it's still a trigger. As the Verge's Elizabeth Lopatto noted, that interview still infuriates Musk so much that he "turned pink while he watched it." Musk then followed up that unforced error with a literal parade of more of the same. Musk ensured that Unsworth had no option but to sue—Musk dared him to do it!
Is there some twisted method here? No, and do not waste a second searching for one.
"There are a lot of things I say, and not all of them have the same quality of thought," Musk said on Tuesday, in an apparent rare moment of clarity. Does he truly think this now—that his Twitter feed is a literal waste of malformed thoughts and $20 million weed jokes, with the occasional deep-space JPG? If he did, surely he would have settled the case, as The New York Times' Sarah Jeong observed.
More likely, in Elon Musk's mind, he believes he's still right. Just another in a series of world-altering acts of staggering hubris.
http://perezonomics.com/tesla/event-horizon-the-day-elon-musks-empire-may-have-ended
Tesla on autopilot rear-ended Connecticut cop car as driver checked on dog. Tesla cars fail constantly.
A Tesla on autopilot rear-ended a Connecticut trooper's vehicle early Saturday as the driver was checking on his dog in the back seat, state police said.
Police said they had responded to a disabled vehicle that was stopped in the middle of Interstate 95. While waiting for a tow, the self-driving Tesla came down the road.
After striking the trooper's vehicle, the driver in the Tesla then rear-ended the disabled vehicle before stopping.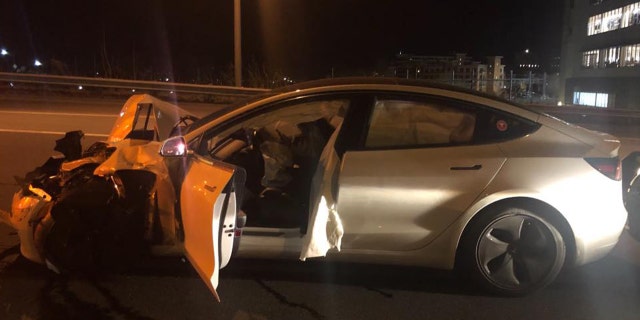 "The operator of the Tesla continued to slowly travel northbound before being stopped several hundred feet ahead by the second trooper on scene," police said.
"The operator of the Tesla stated that he had his vehicle on 'Auto-pilot' and explained that he was checking on his dog which was in the back seat prior to hitting the collision," police said.
NTSB REPORT SAYS CALIFORNIA TESLA DRIVER WAS USING AUTOPILOT WHEN HE HIT A FIRETRUCK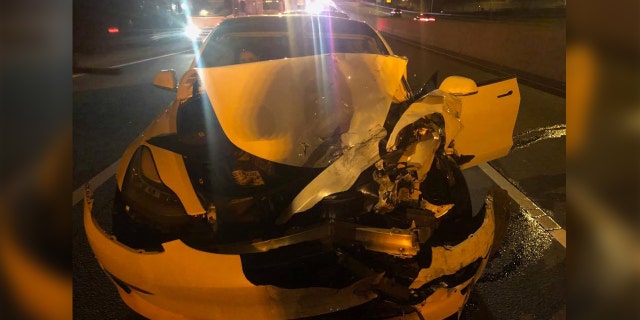 State police said troopers had their emergency lights on at the time of the incident, police said.
The Tesla operator was issued a misdemeanor summons for reckless driving and reckless endangerment, police said.