The CrackBerry Chronicles Of San Francisco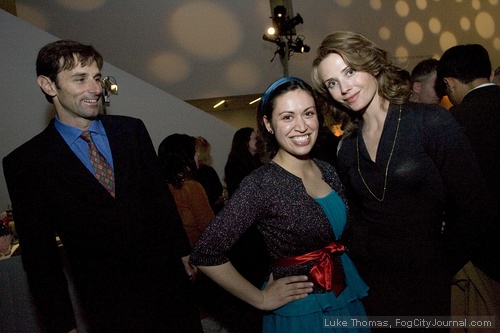 Paul Pelosi Jr., Elaine Santore, and Jennifer Siebel attended the unveiling
of Francesco's rock at the de Young Museum, April 24.
Photos by Luke Thomas
By Elaine Santore
The Heart of San Francisco presents the rock of her faith
Every time Fog City Journal ventures to District 1, we step into some sort of parallel universe. Thursday evening was no exception.
Angela Alioto invited FCJ to the de Young Museum for the unveiling of Francesco's Rock, a small piece of rock used by St. Francis to rebuild the Porziuncola in Assisi, circa 1208, that will be used as a symbolic corner stone for Alioto's replica chapel project in North Beach.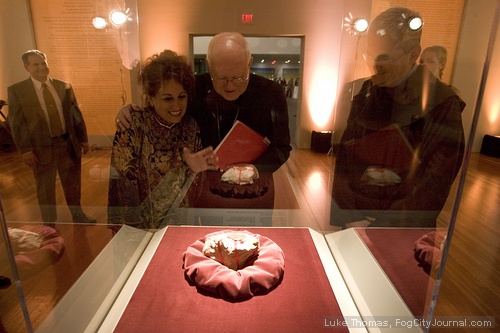 Angela Alioto gazes at the 800-year-old Francesco's Rock
with San Francisco Archbishop George H. Niederauer.
The rock will be moved to the completed National Shrine of St. Francis at the corner of Columbus Avenue and Vallejo Street.
What about Joe?
Police Commissioner Joe Alioto Veronese emceed the event. Veronese introduced a group of local schoolchildren, who each took turns speaking to the audience in their native language including Angela's granddaughter, Chiara Mia Veronese Lind.

Chiara Mia Veronese Lind represents Italy.
Joe Veronese helping out one of the children, Jose, who got a bad case of stage fright.
I hadn't seen Veronese since he dropped out of the District 3 State Senate race.
"You haven't heard the last of me," he told Fog City Journal.
"Are you running for president?" I asked. Or maybe vice president?
CrackBerry: On holy ground and acting wholly ridiculous
Much to my surprise, future First Lady Jennifer Siebel actually agreed to have her photo taken with me, proving that she's a good sport and doesn't ignore FCJ like her fiance Mayor Gavin Newsom.
Remember, Gavin: Luke's camera loves you because you're pretty. And you love Luke's camera because it makes you pretty. You're totally wasting the pretty.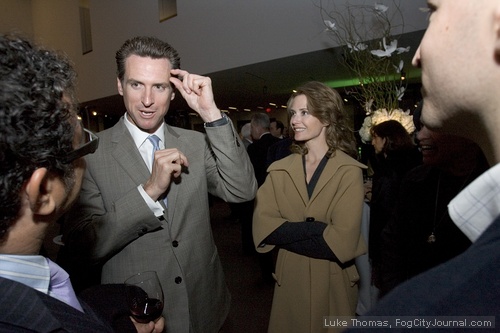 Mayor Gavin Newsom (left, with fiancee Jennifer Siebel) talks about how bad he needs Botox in order to get chicks.
Where did Newsom get that idea?
Siebel said that she liked my outfit (I didn't detect any sarcasm). She told FCJ she'd just come back from the set, and that the brownish haircolor she was sporting wasn't permanent.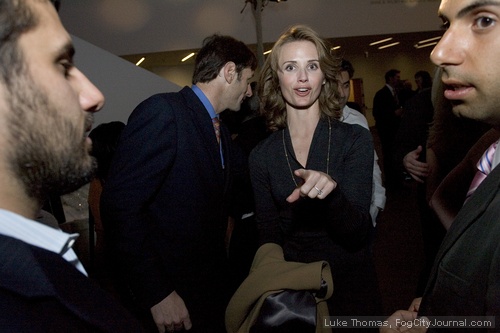 "I see you guys!"
Newsom took some time to chat with a young fan and future voter, a girl named Mia who was representing Austria during the presentation.
(CLICK HERE: Gavin Newsom's 2020 Property Taxes Are Delinquent On BOTH Of His Estates)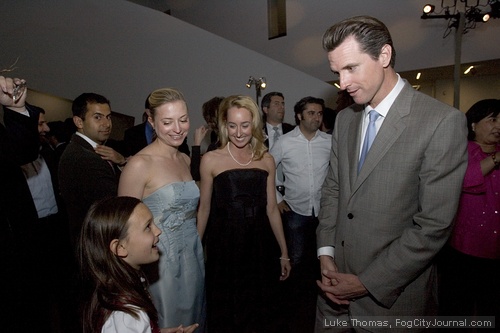 "Do you go to Austria often? Are you an outdoors person?"
"Class of '97"
My secular and religious worlds truly collided when I spotted Monsignor Harry Schlitt. I knew him when he was just Father Harry, my pastor while I was a student at St. Gabriel Elementary. At least one of us is upwardly mobile.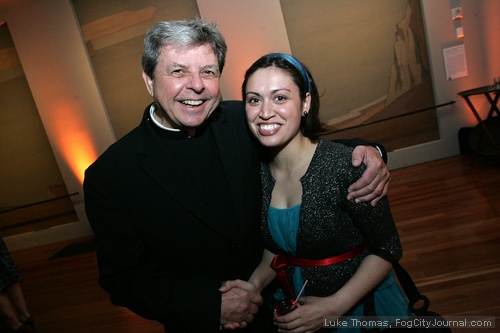 Monsignor Harry Schlitt and Elaine Santore.
Maybe someday I'll go back to my alma mater and give a Career Day speech called "How to become a notorious nobody" or "How to write about politics without really writing about politics." That would be epic.
The Scientologists are onto us
The President of the Church of Scientology of San Francisco, Jeffrey Quiros, wanted his photo taken with me. Quiros recognized me because he found that photo BFF Aaron took of me posing in front of the church. Awkward.

Elaine Santore and San Francisco Church of Scientology President Jeffrey Quiros.
He suggested that I visit the church sometime, and write a story about "Anonymous." But I think I'll stick to making fun of politicians.
D3 candidate alert
During the event FCJ was introduced to District 3 Supervisor candidate, Lynn Jefferson. (I would give you a link to her website, but it's "under construction.")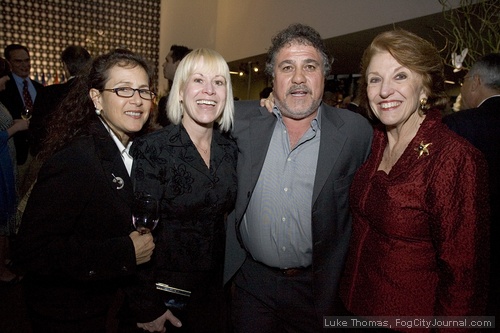 Maria Zocca, D3 Supervisor candidate Lynn Jefferson, Giovanni Zocca,
and North Beach Chamber of Commerce Executive Director Marsha Garland.
North Beach Chamber of Commerce Executive Director Marsha Garland told Luke that Jefferson is one of the top 3 contenders. I'm guessing the other two contenders Garland's talking about are David Chiu and h. Brown.
Professional Negligence, Complaint Filed By Plaintiff Zocca, Giovanni As To Defendant Boasberg, Albert L Does 1-100, Inclusive Summons Issued, Judicial Council Civil Case Cover Sheet Filed Case Management Conference Scheduled For Feb-13-2009 Proof Of Service Due On Nov-12-2008 Case Management Statement Due On Jan-29-2009
Giovanni Zocca Et Al, Court Case No. CGC 07 460489 in the Superior Court of California, County of San Francisco. Salvatore Cortara v. Giovanni Zocca Et Al State Civil Lawsuit Superior Court of California, County of San Francisco, Case No. CGC 07 460489 Superior Court Judge Peter J. Busch, presiding.
Dede Wilsey + Angela Alioto = too many divas in one room
I find Dede Wilsey fascinating and horrifying all at once. That's all I'm going to say.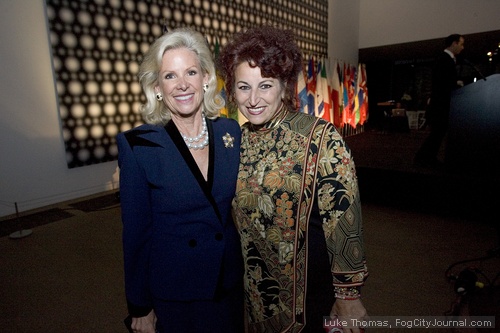 Dede Wilsey and Angela Alioto.
According to the Trattoria Pinocchio Facebook page, the restaurant "is owned and run by Giovanni Zocca and his wife Maria." Zocca immigrated from Sicily to New York when he was 17 years old before ...
San Francisco Oligarchs, Elitists And Gatekeepers:

Janet Reilly
Clint Reilly
Ed Lee
John Molinari
Roger Boas
Dick Blum
Vinod Khosla
Anybody named Haas
Charlotte Maillard
Ed Shultz
Henry Kissinger
Will Hearst
Nancy Pelosi
Dianne Feinstein
Kathryn Feinstein
Scott Weiner
Darcy Brown
Stewart Brand
Joseph Costello
Carl Livingston
Henry Adams
Wally McCormick
Bob McKeen
Jean Bricker
Richard Thieriot
Wilkes Bashford
James Bronkema
Roger Boas
William Ball
Gordon Bellis
Frances Bowers
Donna Casey
Gretchen Cebrian
Tina Cella
Lawrence Chickering
Sheldon Cooper
Charles Crocker
Edwin Cutler
Myron Du Bain
Coburn Everdell
Donna Ewald
John Gamble
William Gaylord
Richard Graff
Reid Hoffman
Ann Getty
Anthony Hale
Matilda Kunin
Wendy Linka
Mary Moulton
William Newsom
John Owsley
Bokkara Patterson
Juan Reynal
Steven Swig
Charles Thieriot
Wilfred Von Bulow
Michael Whitman
Brayton Wilbur
Rita Barela
John Brunelle
John Calori
William Coblentz
Joseph V. Costello
John Diefenbach
Myron Dubain
Frank Woods
Mort Feld
T. Jack Foster Jr
Gordon P Getty
James Gilleran
John Goy
Evie Haas
Bryan Hemming
John Jacobs
Fritz Jewett
Ray Jones
George Keller
Art Kern
Bob Lansdon
Arthur Latno
Robert Leefeldt
Bob Lurie
Malcom MacDonald
Dan McCall
Wallace McCormack
Rich Miller
Elizabeth Pfau
Forette Pomeroy
David Ringler
Hadley Roff
Norman Rosenblatt
Albert Schlesinger
Steven L. Swig
Jul 24, 2020
San
Francisco
requires people to wear face coverings while on public transportation. For most people, the new coronavirus causes mild or moderate symptoms, such as fever and cough that clear up in ...
It turns out that anti-mask sociopaths were a problem during the 1918-1919 pandemic, too. The Anti-Mask League of San Francisco was formed during the time of Spanish Flu to protest mask ...
All across America, protests against the death of George Floyd while in police custody have devolved into riots, looting, arson and vandalism. I am willing to bet that many of the rioters are sociopaths, or followers of sociopaths. Atlantic City, New Jersey, where I live, was targeted. I went for a walk on the Boardwalk last Monday morning, as I do once or twice a week.
The intention of this group is to start a discussion of like minded people who have come across sociopaths / narcissists; either at work, at home, or just simply have concern about this damaging personality type being in a position of power. The ambition of the group is to find solutions on a global scale. Event location to be decided.
Dec 14, 2019
The new chief law-enforcement official in
San
Francisco
isn't particularly concerned with enforcing the law. Chesa Boudin, the city's recently elected district attorney, campaigned to end ...
The terms "psychopath" and "sociopath" are used interchangeably and, at times, inappropriately. The two terms are actually part of an antisocial personality disorder and it's not accurate to name someone with an aloof manner or a selfish streak as either a psychopath or a sociopath. Some parents are concerned that their teenagers might be afflicted with one of these disorders, however.
Sociopathy refers to a pattern of antisocial behaviors and attitudes, including manipulation, deceit, aggression, and a lack of empathy for others. Sociopathy is a non-diagnostic term, and it is ...
A sociopath rates love kind of like they rate happiness so if a man made her laugh/happy she feels affection for him. If a child fulfills her life she loves him. If her family has been good to her-she is grateful and loyal to a fault. Also, not all sociopaths manipulate and get joy out of seeing others hurt. ... 9 years ago from San Francisco ...
A sociopath is a term used to describe someone who has antisocial personality disorder (ASPD). People with ASPD can't understand others' feelings. They'll often break rules or make impulsive ...
London Nicole Breed is the 45th mayor of the City and County of San Francisco. Mayor Breed is the first African-American woman Mayor in San Francisco's history. Board of Supervisors. Norman Yee. President of the Board, Supervisor. District 7. Sandra Lee Fewer. Supervisor. District 1. Catherine Stefani. Supervisor. District 2.