Toxic Zuckerberg and Sandberg Rot Facebook From The Inside Out
- Google, Facebook, LinkedIn, Netflix found to be nest of sick sociopaths!
WASHINGTON (AP) — Mark Zuckerberg's social network in Washington is shrinking.
Bipartisan hostility against Facebook has been building for months, fueled by a series of privacy scandals, the site's role in Russian meddling in the 2016 presidential campaign and accusations that Facebook crushes competitors.
Now, with the 2020 elections approaching, Democrats especially are homing in on the conduct of the social media giant and its refusal to fact-check political ads and remove false ones.
"When you're the No. 1 monopoly, people are going to come after you," says John Feehery, a veteran Republican communications strategist. The challenge for Democrats, as he sees it: "They're facing a base that is very angry and restive. So they have to be much more aggressive in taking on corporations."
Zuckerberg enjoyed a cozy relationship with the Obama administration. But in the face of growing public outrage, the co-founder of the upstart born under the motto "Move fast and break things" is learning the art of smoothing over and piecing back together.
His new strategy: a personal blitz featuring serial private meetings in Washington with key lawmakers of both parties and President Donald Trump; small, off-the-record dinners at his California home with conservative journalists and opinion makers; and the occasional public address or TV interview.
Addressing criticisms from Democratic lawmakers and civil rights groups over Facebook's track record on fighting discrimination, Zuckerberg and Chief Operating Officer Sheryl Sandberg planned to host a dinner Monday night with civil rights leaders. The two executives want to hear the leaders' "direct perspective and feedback," the company said.
The Rev. Al Sharpton said last week that Zuckerberg would meet with him and others to discuss concerns such as Facebook's handling of political messages. Misinformation on the platform can contribute to the suppression of voting by African Americans and other minorities, civil rights leaders say.
Zuckerberg has become lobbyist-in-chief for a tech giant that has about 60 people officially playing that role. The company spent an estimated $12.6 million on federal influencing last year.
The political ad issue hits close to home for Democrats. Facebook, as well as Twitter and Google, refused in September to remove a misleading video ad from Trump's reelection campaign that targeted top-tier Democratic candidate Joe Biden. Sen. Elizabeth Warren, another top Democratic contender, chose to hit back by running her own ad and making it personal by falsely claiming that Zuckerberg had endorsed Trump for 2020.
Warren, who has called for breaking up Facebook and other tech giants, acknowledged the ad's deliberate falsity to make her point.
Then came Zuckerberg's speech last month at Georgetown University in which he promoted free expression as the foundation for Facebook's refusal to take down content it deems newsworthy, even if the material violates company standards. The next week, during prickly questioning by Democratic lawmakers at a televised House hearing, Zuckerberg dug in on not fact-checking politicians' speech and the handling of hate speech and potential incitements to violence.
"This really is not about money," Zuckerberg insisted. "It is important that people can see for themselves what politicians are saying." Facebook says political advertising accounts for less than half of 1% of its total revenue.
Separately from political advertising, Facebook has policies and improved technology that it says now enables it to more efficiently detect terrorist content in many languages. Following the mass shooting in New Zealand last spring, for example, Facebook now prohibits livestreaming by people who have violated rules covering organizations and individuals deemed dangerous and potentially violent.
In the lambasting from Democrats, Rep. Joyce Beatty of Ohio, the vice chair of the Congressional Black Caucus, focused on Facebook's track record on civil rights and diversity. She told Zuckerberg that he had "ruined the lives of many people, discriminated against them."
As part of a legal settlement with civil rights groups, Facebook changed its ad-targeting systems this year to prevent discrimination in housing, credit and employment ads. It previously had allowed such ads to be targeted to people based on age, sex or race, which is illegal.
At some points, friendlier Republican members of the House Financial Services Committee asked Zuckerberg how he was holding up through the six-hour hearing. "I'm doing OK," replied the 35-year-old co-founder, chairman and CEO. He's one of the world's richest individuals, with a net worth currently estimated at $71 billion.
Summing up, Rep. Maxine Waters, the California Democrat who leads the committee, told Zuckerberg, "You have opened up a discussion about whether Facebook should be broken up."
A mandated breakup would be the worst-case scenario for Facebook and the other big tech companies. Facebook says splitting up large tech corporations would make the election system more vulnerable to interference because the companies wouldn't be able to work together to prevent it.
For Zuckerberg and the Democrats, "it may be a nasty divorce," said James Thurber, a professor of government at American University who founded its Center for Congressional and Presidential Studies. "He clearly has taken a stand that's really quite unpopular."
Thurber called Zuckerberg's backstage celebrity approach to lobbying efforts "very dangerous."
"You've got to be very careful about that, if you think you can do it yourself," he said.
Rep. David Cicilline, a senior House Democrat who leads the Judiciary Committee's investigation into the market dominance of big tech companies, is working on legislation that may target the profits made by Facebook from political ads it knows are false. The measure likely would also apply to social media rivals Twitter and Google.
Last Wednesday, Twitter made the unexpected announcement that it will ban all political advertising from its service.
"This is a good first step," Cicilline tweeted. "Your move, Google/Facebook."
Zuckerberg's quick riposte, during Facebook's quarterly conference call on earnings, was to reaffirm the company's commitment to the value of free speech, including for politicians.
It's a sharp reversal of fortune for Facebook from the days of the Obama administration, when the company was hailed as an exemplar of innovation and an engine of economic growth. Campaign money flowed to the Democrats from big tech companies.
At an employees' town hall at Facebook's Silicon Valley headquarters in April 2011, President Barack Obama said: "My name is Barack Obama and I'm the guy that got Mark to wear a jacket and tie."
As they removed jackets and ties in unison and rolled up their shirt sleeves, Obama enthused, "Being here at Facebook is so exciting for me. You guys are at the cutting edge of what's happening."
How Sheryl Sandberg went from feminist hero to total sellout
The mask is off.
Sheryl Sandberg, once the human face of Facebook, the would-be feminist warrior whose "Lean In" philosophy was meant not just to reshape Big Tech but the American workplace and feminism itself, has been revealed as just another digital overlord.
The façade began crumbling last November, when The New York Times published a devastating exposé depicting Sandberg as the likely architect of an anti-Semitic smear campaign against George Soros in the wake of his attack on Facebook and Google at the 2018 World Economic Forum.
That story, of course, followed the revelations of rampant and promiscuous data sharing, the turgid response to ethnic cleansing in Myanmar — largely incited by false posts on the platform — and, of course, the company's role in allowing Russian interference in the 2016 presidential election.
Yet Sandberg is still COO of Facebook. Why?
Once a media darling — the 2013 publication of her bestseller "Lean In" made her a mainstream star — Sandberg has been abandoned by the feminists who founded LeanIn.org as well as by outlets from The New York Times to The Atlantic to The Guardian, The Nation, the BBC, The Washington Post and Wired.
Even Michelle Obama dispatched with Sandberg's facile, elitist premise — that women need to more strongly advocate for themselves at work, and corporations must do better by their female employees — with one succinct line.
" 'Lean in' — that s–t doesn't work all the time."
Indeed. Especially if you lack the leverage of, say, a net worth estimated at $1.8 billion or a home with its own waterfall.
As Wired's Virginia Heffernan noted in 2018, Facebook, with its 2.27 billion users, is an empire unto itself, governed by Sandberg and founder Mark Zuckerberg — autocrats who work in secret — hacking into the lives of users for purposes we are only beginning to understand, no rules to abide, no consequences to bear.
"She's been reticent and even defensive when confronted about the extent of Facebook's complicity in the rise of authoritarianism across the world," Heffernan wrote. "She's delayed in cleaning up the mess, stepping down or proposing serious reforms."
That's a polite way to put it.
As we go into 2020, the message we're getting from Facebook is this: Wow, that actually happened. Don't know if we can stop it from happening again. We probably can't. In fact, next time is going to be worse, and the Russians are probably going to go after state and local elections. Deepfakes are beyond our control, too. Hey — it's a global platform, and who among us doesn't believe in free speech, right? Oh, and by the way, even though the world is catching on, we still plan to create our own global digital currency. Who's going to stop us?
It's been interesting to see Zuckerberg out front on that last one. Even though Congress asked both Zuckerberg and Sandberg to testify to their plans for Libra, only Zuckerberg sat before a House committee last month.
What does it mean when Sandberg — whose job description at least informally includes compensating for Zuckerberg's dead-eyed, alien, lizard-blooded demeanor — sits this one out?
Perhaps Sandberg's appearance the day before, at Vanity Fair's New Establishment Summit in Beverly Hills, had something to do with it. Rather than parry softballs, interviewer Katie Couric went in hard and fast.
Why, Couric asked Sandberg, did Facebook declare, in September, that they would not fact-check political ads? "And I know you're going to say, 'We're not a news organization,' " Couric said.
"We take political ads because we really believe they are part of the political discourse," Sandberg said.
Really? Not propaganda, not electoral interference, not a threat to American democracy — but discourse?
Clearly, it's been wish fulfillment to buy Sandberg as Facebook's humanist component, the good mommy reining in a precociously gifted child who doesn't yet understand his superpowers. As it turns out, she's been raising Cain all along, at our great expense.
Facebook COO Sheryl Sandberg denied the social media giant has paid anyone to create "fake news" to deflect blame for its handling of the Russian interference in the 2016 elections by running stories critical of other tech companies.
"We absolutely did not pay anyone to create fake news — that they have assured me was not happening," Sandberg told "CBS This Morning" on Thursday.
"And again, we're doing a thorough look into what happened, but they have assured me that we were not paying anyone to either write or promote anything that was false. And that's very important," Sandberg added.
Her comments were in response to a blistering report Wednesday in the New York Times that Facebook had hired Definers Public Affairs, a Republican opposition research firm, for the campaign.
The Times also reported that the firm tried to go after critics, including by tying them to liberal billionaire donor George Soros, a frequent target of conservative anti-Semitic conspiracy theories.
Sandberg told CBS the firm was hired by "the communications team" and that she only learned about its work from the Times report.
"Our strategy was to shore up the security on Facebook and make major investments there," Sandberg told "CBS This Morning" host Norah O'Donnell.
"It was not what I was doing nor was it the company's strategy to deflect, to deny or to hire PR firms to do things. That's not the strategy. And I was part of none of that. We've taken great steps, we've made huge investments," she said.
"We've invested a ton in AI and technology and if you were following us before the election, you saw those efforts pay off. We were able to take down lots of stuff over and over, over and over because we were now focused on this."
Sandberg also responded on Facebook to the paper's scathing report, acknowledging that she and founder Mark Zuckerberg were "too slow" to respond to the Russian interference on the site.
"But to suggest that we weren't interested in knowing the truth, or we wanted to hide what we knew, or that we tried to prevent investigations, is simply untrue," she wrote.
"The allegations saying I personally stood in the way are also just plain wrong. This was an investigation of a foreign actor trying to interfere in our election. Nothing could be more important to me or to Facebook."
She said that she and Zuckerberg told Congress in November 2016 that they had detected cyberattacks with ties to Russia and reported them to law enforcement.
"It was not until after the election that we became aware of the widespread misinformation campaigns run by the IRA," she wrote, referring to the Russia-based Internet Research Agency.
"Once we were, we began investing heavily in more people and better technology to protect our platform," she wrote, adding that Facebook no longer works with the PR firm Definers.
"I did not know we hired them or about the work they were doing, but I should have. I have great respect for George Soros — and the anti-Semitic conspiracy theories against him are abhorrent," she said.
THE NIGHTMARE THAT SILICON VALLEY OLIGARCHS CREATED OUT OF OUR INVENTION
50 years after internet conception, dark side stirs fear...

'Anonymity is two-edged sword'...

KLEINROCK: I helped invent. How did it go so wrong?

Tim Berners-Lee warns power for good 'under threat'...

Number of kids watching online videos soars...

The Town Where WiFi Is Illegal...

FACE SCANS TO WATCH PORN?

APPLE resumes human listening to Siri audio...

GOOGLE Funds 29 Journalism Projects That Swing Left...

FACEBOOK Censoring Conservatives; Company Blames 'Moderation Mistakes'...
How the Internet lost its soul
This week, we celebrate what many consider the 50th birthday of the Internet. The underpinnings of the World Wide Web originated in an American communications network built for national defense and the pursuit of knowledge: ARPANET. Funded by the Defense Department's Advanced Research Projects Agency, the network was designed so that scientists could share computer hardware, software and data.
It worked. In the ensuing decades, the ARPANET, and after the 1980s, the National Science Foundation Network (NSFNET), did indeed allow scientists to collaboratively build knowledge around networked tools and information. But expanding access to the Internet, combined with looser government regulations, ultimately produced a situation no one foresaw or intended. On today's Internet, conspiracy theories run rampant, identities can be faked and our real-life elections are vulnerable to manipulation. A network designed for spreading truth became a profit-driven industry, a public sphere that threatens to undermine the public good.
The original ARPANET was designed for a relatively small community of people united by a technical challenge. At the time, computers from different manufacturers ran incompatible software, and long-distance data communications links were costly and unreliable. Networks connected only a few identical computers within a small region.
But ARPANET had an audacious proposal: It would span the continental United States to connect 15 research sites encompassing a diverse array of computers.
"Almost every conceivable item of computer hardware and software will be in the network," project leader Larry Roberts pointed out. "This is the greatest challenge of the system, as well as its greatest ultimate value." As a leading funder of computer science research, ARPA was able to mobilize a talented group of faculty and graduate students to design, build and debug the network, sending the first message on Oct. 29, 1969.
Like many academic environments, the ARPANET community was open and informal, and security was lax; in the early 1970s, students were rumored to have used the network to conduct transcontinental drug deals alongside their official research. But the relatively closed world of networked computing was opened up with the introduction of personal computers in the 1970s. The Defense Department soon found "unauthorized penetrations" of the ARPANET by hackers, complaining that "the availability of inexpensive computers and modems have made the network fair game for countless computer hobbyists."
By 1983, security concerns were so acute that Defense split off military users into their own network, ceding the rest of the ARPANET to academic researchers. In 1990, the ARPANET was absorbed into a new network built by the National Science Foundation that consisted of several regional networks connected by a high-speed backbone. As a nationwide civilian network, NSFNET rapidly increased the size and visibility of the Internet.
Politicians and businesses wanted to capitalize on the potential of a national network to connect citizens and consumers. In the early 1980s, the general public, though not yet allowed on the Internet, had begun using commercial dial-up services such as CompuServe and AOL to access servers offering chat rooms, games and email. In 1986, Congress, prompted by Sen. Al Gore, began debating whether the nation needed an "information superhighway" to connect K-12 schools and libraries for all citizens. Congress included funding for a National Research and Education Network (NREN) in its High-Performance Computing Act of 1991.
Had this plan come to fruition, the Internet would have remained under federal control until the late 1990s, potentially allowing time to upgrade security or create regulations to protect users. But before the NREN could get underway, the industry contractors providing the NSFNET infrastructure rushed ahead with plans to offer commercial network services, ultimately causing Congress to abandon the NREN.
The result was the de facto privatization of the Internet. The nonprofit organizations that had operated the NSFNET's backbone and regional networks reinvented themselves as the first commercial Internet service providers, serving both the NSF and private customers. The NSF now had the option to outsource its networking needs to these commercial providers, which it did as it retired the old NSFNET in 1995. While this removed an administrative burden from the NSF, the hasty transition left little time to consider the policy implications. So a commercialized network developed without public oversight of the Internet's operation.
Privatization opened the floodgates for new services: social media, gaming, e-commerce, and millions of personal websites and blogs. Industry advocates insisted that the Internet should not be regulated, lest innovation be stifled. Regulatory models that had been developed for common carriers, publishers and broadcasters did not fit a new medium that combined aspects of all these media and whose services and business models were in constant flux. Online businesses were free to experiment with ways to make money, eventually landing on the advertising-based business model that led to escalating surveillance and collection of user data to better target ads.
None of this has prevented scientists - the Internet's original users - from continuing to build reliable knowledge based on networked data and computational tools. The scientific community has time-tested processes to validate and protect the information it shares. But the general public is in a more precarious position. Anyone can be a publisher online, and the obvious clues to legitimacy that came with print and broadcast media - the investment in reporting and fact-checking, obligations to paying customers, an identifiable organization that could be held liable for false content - can be absent or faked online. The same type of user profiling that stimulates business also enables bad actors to target inflammatory social issues and widen political divides. We have inadvertently created a culture where misinformation can be spread without accountability.
Long-term trends of increasingly open access and diminishing government oversight have fueled the Internet's growth and unleashed the creativity of millions. They have also left a vacuum where the public interest should be. Can we work together to build a better Internet for the next 50 years?
- - -
Abbate is a professor of science, technology and society at Virginia Tech and the author of "Inventing the Internet."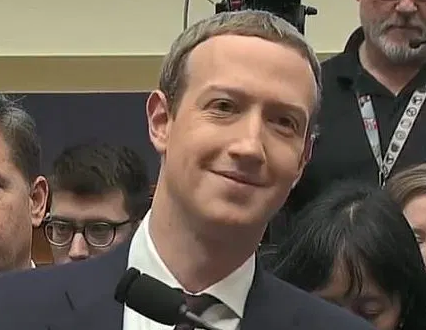 Zuckerberg smirks as he's told 'perhaps you believe you are above the law?'
---
TWITTER tumbles as 'bugs' hit revenue growth as those 'bugs' revealed to be illegal spying systems...
History will not be on Facebooks sociopath social manipulation side, no matter what Zuckerberg says
Key Points
Mark Zuckerberg's address at Georgetown on Thursday detailed his views on freedom of speech on Facebook.
Zuckerberg's argument was that more speech will drown out the bad stuff on Facebook, and that history will say he made the right decision by not making the company the arbiter of truth.
But Zuckerberg also ignored the role Facebook plays as a publisher, and the responsibility it carries to get the facts right.
In Mark Zuckerberg's view, this funky political moment we're living through is just a temporary blip. And Facebook's role in that moment — allowing election interference, fake news and hate speech to spread across its network of more than 2 billion users — will ultimately look great in the history books.
In his address at Georgetown University on Thursday, Zuckerberg detailed his thoughts on free speech and Facebook's role in wrangling the views, feelings and political ad spending of billions of users.
He said he won't ban political advertising on the site, as some other social media companies like TikTok have promised. He provided a revisionist history of the founding of Facebook, claiming it was meant to promote discussion about the Iraq War that started while he was a student at Harvard. (Facebook actually started as a way to rate the physical attractiveness of Harvard students.) He said no one wants tech companies to be the arbiter of truth and expression.
But what stuck out the most was how Zuckerberg thinks Facebook will be judged when we look back at this era decades from now. It wasn't just a rallying cry for conservatives who — despite evidence to the contrary — believe Facebook is snuffing out conservative voices. It was a reassurance for employees who have had to grapple with scandal after scandal over the last three years. The implication: The work Facebook doing on a whole is better for connecting people and promoting an open debate and dialogue.
"I believe in giving people a voice because, at the end of the day, I believe in people," Zuckerberg said in the closing of his speech. "And as long as enough of us keep fighting for this, I believe that more people's voices will eventually help us work through these issues together and write a new chapter in our history — where from all of our individual voices and perspectives, we can bring the world closer together."
Zuckerberg's speech implies history will judge him for making the right decision by enabling more speech, even false or misleading speech and phony paid political advertisements. The bad stuff will be drowned out by the good. He thinks that Facebook's policies transcend today's chaos and that his decisions today will look like the right move in the long term.
It's a tactic world leaders have used to defend their own controversial decisions, whether it was President George W. Bush defending the Iraq War, or war hawks in the 1960s making the case for the atrocities committed in Vietnam. Things seem terrible now, but don't worry! We'll be right in the end.
Zuckerberg's stance may be rooted in the principles of the First Amendment. Like the saying goes, the only way to weed out bad speech is more speech. And what better platform to drown out bad speech than a website used by billions?
But that doesn't account for the role Facebook plays as a publisher. While there's almost no human involvement in deciding what to pump into your Facebook feed, there is an algorithm that's making those decisions. In general, that algorithm is designed to keep users sucked in, and the best way to do that is showing them stuff that will engage, enrage or feed their biases.
Truth doesn't matter to an algorithm. But when you're delivering news and information at a massive scale, you also carry the responsibility to get it right. Facebook is doing that on a scale never seen before in human history. And its leader admitted on Thursday that it wants no part in playing the role of fact-checker.
In fact, in the case of false political advertisements, it's willing to get paid to spread those falsehoods.
History won't look fondly upon that.
LEAKED INTERNAL FACEBOOK RECORDS PROVE THAT FACEBOOK IS A PACK OF LYING BASTARDS
(Bloomberg) -- Facebook Inc.'s struggle to regain trust over how it handles user data got more complicated with the release of a trove of internal documents suggesting business considerations outweighed the privacy concerns the company publicly touted when it decided five years ago to cut off tens of thousands of developers from its platform.
The company's "Switcharoo Plan," a nickname bestowed by a Facebook employee in an email, was revealed in thousands of pages of sealed court records described Wednesday in a report by Reuters and posted online by NBC News.
The documents portray company executives plotting how to convince the public they were serious about improving privacy protections even while their real goal was to snuff out competition.
Read More: Facebook Faces Bare-All Moment in Bikini Photo-Finder Fallout
The leaked records include internal Facebook emails and memos that were filed under seal in state court in California as part of a lawsuit brought by an aggrieved Silicon Valley app developer. Six4Three LLC's app allowed users to find photos of their Facebook friends in bathing suits.
"These old documents have been taken out of context by someone with an agenda against Facebook, and have been distributed publicly with a total disregard for US law," a Facebook representative said Wednesday.
Six4Three sued Facebook in 2015 after the social media giant cut off its access -- along with that of thousands of other app developers -- to Facebook user data, thereby destroying the functionality of its app.
The disclosure of the confidential documents comes as Facebook faces increased scrutiny over alleged anti-competitive behavior.
In September, congressional lawmakers probing antitrust issues in Big Tech made extensive document requests of Facebook, including executive communications on company decisions "to deny any specific app or any categories of apps access to Facebook's APIs" as well as moves "to require that any specific app or any categories of apps purchase ads on Facebook in order to maintain access to Facebook APIs" or other user data.
The companies had produced "tens of thousands" of documents as of mid-October, according to Democratic Representative David Cicilline of Rhode Island, who is leading the probe.
Meanwhile, California went to court Wednesday to force Facebook to cooperate with an investigation into whether the company has violated its users' privacy and state law. The company said it has "cooperated extensively" with the state probe.
Facebook had a history of preventing rivals -- even ones who weren't real rivals yet -- from using its advertising products. In 2013, Facebook restricted ads for competitive Google products, as well as WeChat, Line and Kakao, the messaging apps popular in Asia. "Those companies are trying to build social networks and replace us," Chief Executive Officer Mark Zuckerberg said in a 2013 email. "The revenue is immaterial to us compared to any risk."
When documents from the Six4Three lawsuit were leaked last year to the U.K.'s Parliament, Facebook didn't dispute their authenticity, but argued that the app maker was mis-characterizing the information to sensationalize the lawsuit.
One of Six4Three's former lawyers, Stuart Gross, said the House Judiciary Committee and its antitrust subcommittee asked him in writing on Sept. 13 to provide them with copies of the sealed court records. He said he was unable to comply because of the court's orders and declined the request.
(Updates with comment by former lawyer for Six4Three.)
--With assistance from Evan Sully and Kurt Wagner.
To contact the reporters on this story: Robert Burnson in San Francisco at rburnson@bloomberg.net;Ben Brody in Washington at btenerellabr@bloomberg.net;Sarah Frier in San Francisco at sfrier1@bloomberg.net
To contact the editors responsible for this story: David Glovin at dglovin@bloomberg.net, ;Sara Forden at sforden@bloomberg.net, Peter Blumberg