Tulsi Gabbard says insider traders should be investigated & prosecuted, as Left and Right team up on profiteering senators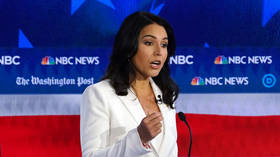 In a rare moment of bipartisanship, commenters from all sides have demanded swift punishment for US senators who dumped stock after classified Covid-19 briefings. Hawaii Rep. Tulsi Gabbard has called for criminal prosecution.
As chairman of the Senate Intelligence Committee, Richard Burr (R-North Carolina) has received daily briefings on the threat posed by Covid-19 since January. Burr insisted to the public that America was ready to handle the virus, but sold up to $1.5 million in stocks on February 13, less than a week before the stock market nosedived, according to Senate filings. Immediately before the sale, Burr wrote an op-ed assuring Americans that their government is "better prepared than ever" to handle the virus.
Also on rt.com
Liberal icon Sean Penn wants a 'compassionate' army deployment to fight Covid-19
After the sale, NPR reported that he told a closed-door meeting of North Carolina business leaders that the virus actually posed a threat "akin to the 1918 pandemic." Burr does not dispute the NPR report.
In a tweet on Saturday, former 2020 presidential candidate and Hawaii Rep. Tulsi Gabbard called for criminal investigations. "Congress/staff who dumped stocks after private briefings on impending coronavirus epidemic should be investigated and prosecuted for insider trading," she wrote.
"Members of Congress should not be allowed to own stocks."
Congress/staff who dumped stocks after private briefings on impending coronavirus epidemic should be investigated & prosecuted for insider trading (the STOCK Act). It is illegal & abuse of power. Members of Congress should not be allowed to own stocks. https://t.co/rbVfJxrk3r

— Tulsi Gabbard