LATEST NEWS ABOUT SAN FRANCISCO LIFE, CULTURE AND ISSUES
Everything About San Francisco - Ripped From The Latest Headlines
____________________________________________________________________________________
SEE THE FEATURE FILM, FOR FREE, THAT REVEALS THE WHOLE STORY:
"OMERTA"
CLICK THIS LINK TO WATCH IT IN YOUR BROWSER:
Additional Links To View The Film For Free:
OR
OR
------------------------------------------------
SAN FRANCISCO HAS 'GONE TO HELL' SAY COMMUNITY LEADERS
- All of the buildings in downtown San Francisco are cracking and collapsing.
- Drugs and douche-bags everywhere
- Stupid soy boys and naive millennial posers at every corner
- Increasingly corrupt politicians thriving on Dark Money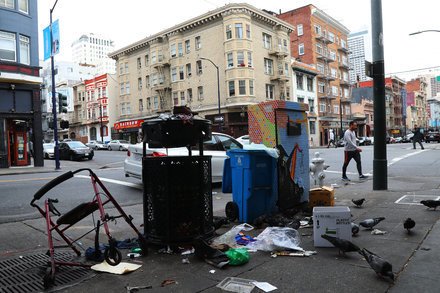 San Francisco and Silicon Valley are both run by the same dynastic criminally corrupt families and sick perverted insiders. They send their kids to Stanford University where they indoctrinate and brainwash the next generation into a culture of greed, sex, political bribery and Sandhill Road collusion. San Francisco City Hall is powered by hookers, sex and kick-backs. Every attendee at the San Francisco Symphony and Opera opening nights are the "elite" scum of the Pacific Heights money and power manipulation crowd. Old men wield young arm candy as they siphon off taxpayers money into their personal construction and real estate company City contracts. The FBI can't even keep up with all of the crimes. If you think the FBI arrests of Northern California political criminals is going good, know that they FBI has a backlog that is years long. An FBI forensic accounting investigation of the CPA files and investment bank records of each "old San Francisco family" and public official would reveal stock market crimes, insider trading, real estate money laundering and stock market payola crimes that are Off-The-Scales!
Life on Dirtiest Block in San Fran...

Drug dealers flood city...


People Line Up In Record Numbers At Bay Area Food Bank As SF Tech Rich Watch SF Poor Starve...

Is tech-dominated SF about to return to its Bohemian roots as Nancy Pelosi's Sodom crumbles?
IAN BIRRELL says tech giants have turned San Francisco into a dystopian nightmare of addiction, homelessness and criminality
- Criminals "Zulu Jones", "Lefty O'Douls Boss", "Shrimpboy Chow", "Francesco "Frank" Lanza", "Roger Boas", "James "Jimmy" Bronkema", "Aladino "Jimmy the Weasel" Fratianno"...the list of political mobsters in the San Francisco Bay Area goes on and on and on...
SAN FRANCISCO TURNS INTO SOCIAL HELL-SCAPE
Median price for Bay Area home hits record-shattering $935,000...

Woman allegedly calls cops on girl selling water in San Fran...
Gay Tech Mafia runs Silicon Valley and San Francisco
( )
by Reverse-Flash to news (+2|-0)
San Fran Diseased Streets... Needles, Garbage, Feces... Like Worst Slums in World...
San Francisco mayor admits she was screwing corruption boss and took thousands of dollars of cash from top crook in FBI corruption probe
San Francisco Mayor London Breed on Friday admitted having a 20-year friendship and brief romantic relationship with a former city worker now under FBI investigation, prompting some to call for her resignation.
San Francisco Is One Of The Most Corrupt Cities In The World
San Francisco Mayors, Area Senators and Supervisors exist off of bribes. Facebook, Google, Twitter, Tesla, Chevron, Wells Fargo, Real Estate developers and Chinese mobsters are the biggest payers of bribes. They pay in cash, hookers, buildings, stock warrants and election manipulation. San Francisco politicians pretend to be "green" but they only care about Green Cash. They pretend to be a "Sanctuary City" but all they care about is harboring criminals who they can use to puff up voter counts.
San Francisco cares about one thing: CASH!
If there is a second thing they care about it is: PRETENTIOUS LIFESTYLES
Chicago is corrupt because of the mafia and gangster culture it supports. San Francisco is corrupt because it has no moral compass except the arrow that points straight to hell. Greed and power rule all decisions in San Francisco politics.
http://www.freewebs.com/boycottsanfrancisco/
---------------------------------------------------------------------------------
Shit-Hole San Francisco — where drug addicts outnumber high school students

Officer Brian Donohue checks on Jeffrey Choate after he sees him lying on the sidewalk along Larkin Street and asks him to dispose of used needles next to him in a proper container on Monday, September 10, 2018 in

San Francisco has more drug addicts than it has students enrolled in its public high schools, the city Health Department's latest estimates conclude.

There are about 24,500 injection drug users in San Francisco — that's about 8,500 more people than the nearly 16,000 students enrolled in San Francisco Unified School District's 15 high schools and illustrates the scope of the problem on the city's streets.

It's also an increase of about 2,000 serious drug users since 2012, the last time a study was done.

"There is an opioid epidemic in this country, and San Francisco is no exception," Deputy Director of Health Dr. Naveena Bobba said.

The problem is particularly visible in the Tenderloin, where police reported more than 600 arrests for drug dealing last year. And where 27 suspects were booked into County Jail for dealing drugs in the first 20 days of the new year.

The out-in-the-open use of drugs on city sidewalks and at the Civic Center BART Station was a huge embarrassment for the city and triggered more police patrols and crackdowns in the past year. The BART station has been cleaned up, but the problem continues in the Tenderloin.

And while the police stay busy targeting dealers — the criminal side of illegal drugs — the city's public health officials work the problem as a health crisis.
-------------------------------------------------------------
The San Francisco Board of Supervisors voted 7-4 on Tuesday to overturn the 2015 sale of Presidio Terrace, a privately-owned street in the neighborhood of the same name used by a few dozen of the city's wealthiest homeowners, faulting the city's tax collector and not the residents for letting an annual $14 tax bill go unpaid for decades.
Supervisor Mark Farrell, whose district includes Presidio Terrace, scheduled Tuesday's hearing in August, allegedly to "get to the bottom" of the dispute and let all parties plead their case.
A South Bay couple bought Presidio Terrace's circular street and accompanying sidewalks at a tax sale to the tune of $90,000 after the Presidio Terrace Association (PTA) had failed to pay the taxes on their avenue for 30 years.
----------------------------------------------------------------------

SAN FRANCISCO HAS TURNED INTO THE BIGGEST SHIT-HOLE CITY IN AMERICA
----------------------------------------------------------------------------------------
San Francisco street fight (youtube.com)
Commiefornia - Colin Flaherty: San Francisco Techies Surprised by the Level of Black Violence (hooktube.com)
by Grindelwo to technology (+85|-1)
----------------------------------------------------------------------------------
SAN FRANCISCO BAY AREA VENTURE CAPITALISTS PROVE THEIR CORRUPTION RUNS DEEP
The founder of a Silicon Valley venture capital firm was sentenced Wednesday to six months behind bars for paying about $450,000 in bribes to boost his two daughters' entrance exam scores and get one of them into Georgetown University as a bogus tennis recruit.
Manuel Henriquez, the 57-year-old founder and ex-CEO of Hercules Capital based in Palo Alto, California, cried and dabbed his eyes with a tissue as he prayed for forgiveness from his children and other families he hurt, and asked the judge for mercy.
"There is no perfect way to express how broken I feel in my heart and soul," said Henriquez, who sat next to his lawyer and wore a face mask for much of the hearing held via video conference because of the coronavirus pandemic.
His wife, Elizabeth Henriquez, was sentenced in March to seven months behind bars. She is currently locked up at a prison in California and is expected to be released in January, according to online records.
Prosecutors had asked for five months for Manuel Henriquez, calling him in court documents a "less active participant in the mechanics of the fraud than his wife." The defense urged the judge for three months or less.
U.S. District Judge Nathaniel Gorton called Henriquez a hypocrite who donated money to aid children, while at the same time using his wealth and privilege to put his kids ahead of other less fortunate students in the college admissions process.
"It's a sad day," the judge said.
A high-school senior had deftly promoted her "brand" for the Ivy League, a college consultant boasted. In a2013 promotional video, William Rick Singer, the mastermind of an elaborate admissions corruption scheme, showered praises on the young woman.
She'd started her own organization to fight climate change, he said. She'd eventually enroll in Brown. That student, it turns out, was Mary Doerr, a daughter of John Doerr, the Silicon Valley venture capitalist and early backer of Google and Amazon.
The Doerrs were clients of Singer years before he turned a legitimate college consulting practice into an elaborate bribery-for-admissions scheme that has shaken American academia, the parents who sought Singer's advice and the Wall Street and Silicon Valley firms that are now dealing with the fallout.
Pro golfer Phil Mickelson and National Football League Hall of Fame quarterback Joe Montana each tweeted last week that their families had used Singer for college consulting and were "shocked" to hear about the illegal activity.
So are some of the Wall Street and Silicon Valley companies who had connections to Singer, including Goldman Sachs Group Inc., bond-giant PIMCO and venture-capital firm Kleiner Perkins Caulfield & Byers, which Doerr co-founded and is chairman.
Court papers suggest as many as 800 families hired Singer at some point. Singer ran an apparently legitimate college counseling firm, the Edge College & Career Network, before about 2011. The 2013 promotional video that referred to Mary Doerr says she was a client "six years ago," or about 2007. The bribery case reaches back only to 2011.
The Doerr family has not been accused of any wrongdoing. Mary Doerr graduated from Brown University in 2015 and now is a graduate student at North Carolina State University, according to her LinkedIn profile.
Calls to Mary Doerr and her mother, Anne, were not returned. A Kleiner Perkins spokeswoman, Katie Hutchison, didn't respond to a request to speak with John Doerr.
Hutchison declined to answer questions but said in a written statement that while Doerr and partner Tom Schlein, "along with a long list of Valley luminaries," were clients of Singer, they consulted him only for "test tutoring and help with college applications — typical of services provided by thousands of private college counselors across the country — and nothing further."
Goldman Sachs, which was mentioned in a wiretapped phone conversation as a social connection for at least one of the parents charged in Singer's bribery-for-admissions scheme, says it has begun an internal investigation into any connection its employees may have to the former college consultant.
Firms whose partners and employees were caught up in the federal case known as "Operation Varsity Blues" have swiftly moved to fire or accept the resignations of people involved.
Bond-giant PIMCO said in a statement on Monday that "as part of a regular series that includes dozens of outside speakers, PIMCO invited Mr. Singer to speak twice over the past decade, the latest in 2015, about the college admissions process." But the firm added that it "has never had a business relationship with Rick Singer or his college preparation organization. Neither PIMCO nor the PIMCO Foundation has ever paid Mr. Singer or donated money to his foundation."
The statement added that any employees who engaged with Singer's illegal scheme "would have no place at the firm."
PIMCO's former chief executive Douglas Hodge, who retired in 2017, is accused of paying about $500,000 in bribes for two daughters and a son to be admitted to Georgetown University and and the University of Southern California as fake tennis, soccer and football recruits.
The case has also sent shivers among affluent parents who fear they and their children will be tarnished as the Singer case unfolds.
Families now in the admissions process "want to illustrate that they're a good family that wouldn't cheat and that their kids would never want them to cheat the process," said Christine Pluta, a private counselor with Edvice Princeton who has also worked in the admissions offices of the University of Pennsylvania and Barnard College. "I have never before heard a family try to convince me of their own integrity. Singer is part of the conversation."
Pluta said when she worked at Penn about 20 years ago, a "father offered me a million dollars if his daughter would be admitted. At first I thought he was joking." She said she made it clear the offer was inappropriate.
Singer cooperated with authorities and pleaded guilty to facilitating more than $25 million in bribes for faked ACT and SAT scores and bogus athletic profiles to schools including the USC,Georgetown andYale University. Parents contributed to Singer's fake charity, Key Worldwide Foundation, to facilitate bribes to coaches and school officials and some and some took the charitable-donation deduction.
The wealthy parents worked in finance, sports and entertainment and included actresses Lori Loughlin and Felicity Huffman as well as Hodge, who was replaced as CEO of PIMCO in 2016; Gordon Caplan, the co-chairman of global law firm Wilkie Farr & Gallagher LLP, and William McGlashan Jr., a former partner of private equity firmTPG, who was fired last week.
The relationships in those worlds led to some embarrassing revelations for firms who invited Singer to speak.
"We know people at Goldman Sachs who have, you know, recommended you highly," said parent Marci Palatella, according to transcripts of a wiretapped conversation with Singer.
Palatella, chief executive officer of a liquor distribution company in Burlingame, Calif., and the wife of formerSan Francisco 49ers player Lou Palatella, was charged with paying $575,000 in bribes to get their son into USC as a fake "long snapper" football recruit.
Goldman Sachs spokesman Patrick Scanlan said Monday that "we're continuing to look into the matter."
Another parent charged in the scandal referenced Kleiner Perkins. In a wiretapped conversation, parent Bruce Isackson worried that the Internal Revenue Service might discover the bogus charity, to which Isackson is accused of paying hundreds of thousands of dollars in bribes to get his daughter into USC as a fake-recruited rower.
Isackson, who was president of real-estate development firm WP Investments in Woodside, Calif., was charged along with his wife, Davina. He no longer appears on the website of the firm, which didn't respond to calls.
"Is this gonna be this — be the front page story with everyone from Kleiner Perkins do whatever, getting these kids into school," Isackson said according to the transcript.
In the 2013 promotional video, Singer spoke of an unnamed client who had started Inconvenient Youth while in high school. "She got totally engaged in her brand, in her story, in her passion," he said in the short video, adding that "I had her six years ago as a student" and thanking former Vice President Al Gore for allowing "us" to use his slide show from his 2006 documentary, "An Inconvenient Truth," that inspired Doerr's group.
Singer added that getting in to college "has to do with getting involved in your brand." He highlighted his role in Mary Doerr's venture, saying that "we wanted to create an organization that would focus on global warming for youth."
Mary Doerr started Inconvenient Youth in 2008 between her junior and senior years atCastilleja School in Palo Alto, Calif.
John Doerr, whose net worth Forbes puts at $7.5 billion, has been involved in education issues for some time. He is co-founder and lifetime director of the NewS chools Venture Fund, which invests in start-ups aimed at improving public education. He and Anne Doerr donated $50 million in 2015 to Rice University, his alma mater, to finance a leadership training program.
The couple paid about $50,000 bribes to have someone cheat multiple times on standardized tests for their daughters, authorities said.
The Henriquezes were also charged with paying $400,000 to the sham charity run by admissions consultant Rick Singer to get their oldest daughter into Georgetown by falsely portraying her as a star tennis player. Singer in turn paid then-Georgetown tennis coach Gordon Ernst in exchange for labeling her as a recruit, authorities say.
Ernst, who's accused of getting nearly $3 million in bribes, has pleaded not guilty.
Singer has pleaded guilty to running the sprawling bribery scheme and helped investigators build the case against the parents.
Henriquez's lawyers said in court documents that his participation in the scheme was "minor and largely passive" as he was busy running his company while his wife "devoted herself to the care and well-being of their children."
"Mr. Henriquez knew some but not all of the details of the scheme with Singer, played a small role, and to his great regret and shame, did not stop it. He paid Singer's bills, as he did all the family's bills," his lawyers said in a court filing.
Assistant U.S. Attorney Eric Rosen said it "strains credulity" that Henriquez would believe that the $400,000 payment to Singer's sham charity would support "underfunded college athletic programs (including Georgetown tennis) and programs for disadvantaged youth," as his attorneys claimed in court documents.
Rosen accused Henriquez of refusing to fully accept responsibility for his actions and attempting to present a "sanitized version of the conduct to the court."
The Henriquezes are among nearly 30 parents who've admitted to charges in the massive case called "Operation Varsity Blues."
"Full House" star Lori Loughlin and her fashion designer husband, Mossimo Giannulli, are scheduled to be sentenced in August after pleading guilty to paying half a million dollars to get their two daughters into the University of Southern California as fake crew recruits. Loughlin's plea deal calls for her to serve two months behind bars and Giannulli's calls for him to serve five months.
-----------------------------------------------------------------------------------------------
SAN FRANCISCO NOW THE #1 PLACE IN AMERICA TO GET AN AWFUL SEX DISEASE!

STDs in California reach all-time high: 300,000 cases...
-------------------------------------------------------------------------
--------------------------------------------------------------------------
( )
by tendiesonfloor to news (+19|-2)
The mayor of San Francisco says he's hiring 10 workers whose sole responsibility will be to clean up the massive numbers of drug needles littering the streets.
San Francisco Mayor Mark Farrell said Monday the team will respond to resident complaints and remove needles and syringes from "hot spots'' every day of the week.
Farrell tells the San Francisco Examiner that discarded syringes on the streets are among the top litter complaints in the city with a growing homelessness problem and a devotion to encouraging hippie scum to live there.
------------------------------------------------------------------------------
San Francisco Forensic Investigator Paul Kangas Keeps The Ruling Elite On Their Toes
Don't do crime with public money in front of Paul Kangas. This modern Sam Spade will latch onto the case like a pit-bull and never let go. If City Hall, Silicon Valley or the Opera Crowd get into bribery, corruption, sex trafficking and other dirty bits, Paul might end up on their heels.
As the former guard for President Kennedy, Paul Kangas is now a private Investigator in California. His seminal article on the role of George HW Bush in the assassination of JFK was just published on the front page of the Cuban newspaper, Granma. 30 million copies were distributed worldwide. He has taught, and inspired, many contemporary media investigators who have over-turned the entire news industry with the kinds of FBI-class public research that Kangas uses. The many "citizen sleuth' groups operating around the world were inspired by the early work of Kangas.
---------------------------------------------------------------------------
--------------------------------------------------------------------------------------
By Courtney Tubbs |
Photo credit: KRON4

San Francisco: Democrat LGBT Lutheran Pastor And Friends Arrested In Child Porn Raid
-------------------------------------------------------------------------------------------
San Francisco Is An Uninhabitable Hellhole...


Rats, Public Defecation, Open Drug Use...
-----------------------------------------------------------------------------------
San Francisco Tech Executives And City Hall Directors Play A Dangerous Game With Trophy Wives and Prostitutes


By Lucy Carl


Driven by a psychopathic need to employ sex for power instead of passion, executives from SalesForce, Twitter, Google, Facebook and other famous brands, live a life of debauchery few normal people can comprehend.

Almost every $200K/year executive has both a "trophy" wife and a bevy of prostitutes on call. Most of them get the wives and the hookers from many of the same resources. Most of the prostitutes know about the trophy wives, and vice versa, because it is part of "The Deal".

The San Francisco Zoo fundraising parties, The "House Parties" (on Broadway, west of Divisadaro in the tony Pacific Heights neighborhood), San Francisco Symphony parties and Opening Nights, The Red and White Ball Events, The Guardsman parties, The Spinster Events, The Rosewood Hotel "tech events" and a horde of other elitist find-some-ass events deliver the chicks to the Chads.

A Trophy Wife is a surgically enhanced woman who dresses like a Playboy model, wears porno makeup and has a Jessica Rabbit type of cartoonish facial structure. She is acquired by the tech executive to show off to other tech executives. An unusually large number of San Francisco tech executives are homosexual but they still have Trophy wives to keep up appearances.

At one of these events a young, attractive woman will approach a recently divorced tech executive and advise him that she understands "the Deal". She uses code words and alluded to references but the intent is clear. She is willing to be either a trophy wife or a prostitute because the guy has the cash and she wants the rich lifestyle. A trophy wife is aware that she must accept the fact that the man is rich and can get any woman and there is a 3000 to 1 ratio of hot girls to rich men. If she wants the cash she must accept the non-monogamous sex-with-other-women culture of the tech males.

The Trophy Wives get to live in the big houses with the tech guys and the prostitutes live in apartments in Marin County and Palo Alto. Many of the prostitutes are from overseas and are known as "Instagram Girls" because the advertise on Instagram and Match.com as "models". Hundreds of these internet hookers are flown into San Francisco, Oakland and San Jose international airports, daily, on the credit cards of these tech executives. The pot is well stocked. San Francisco tech executives account for as much bay area sex trafficking, in dollar volume, as the San Francisco Chinatown gangs. A San Francisco tech prostitute goes for $1000.00 to $10000.00 per night while a Chinatown sex worker is only $300.00 per session.

There are over 200 "Personal Services" providers for tech executives who pitch "managing engagement schedules" for CEO's. They are pimps who have networked lists of hookers. They are usually women in the PR business who once were trophy wives, or prostitutes, themselves when they were younger. Most tech executives will eventually receive an offer from a "Social Events Manager", looking to hook them up.

Trophy Wives and prostitute offerings can be found jogging on San Francisco's Marina Green, sitting overtly in outdoor cafe's on Chestnut Street and Union Street in the Marina district and at every "tech event". They dress in fluorescent Spandex with bare midriff tops and painted on Spandex leggings shoved as far up their butt-crack as biology will allow. The regulars, though, are at the elite events and fund-raisers.

The websites BACKPAGE.COM, SEEKING ARRANGEMENTS.COM and MATCH.COM are the source favored by the tech guys for girls-on-demand hookers. Google is in a huge battle against the government because Google does not want BACKPAGE.COM shut down. It is the top source for hookers for the men of Google.

The parties at the French, British and Russian embassies are notoriously full of high-class hookers and wannabe trophy wife candidates. The key to confirming them, in person, or on Match.com, is the use of code words like "generous gentlemen", "appreciates a special women", "knows how to take care of.." , "diamonds.." and other subliminal references.

The game can go south, though. Google's, Tesla Investments and other top executives have been killed by their hookers. Over 100 top tech execs are now in the news for their over-the-top sex scandals. A Trophy Wife or a Hooker can blackmail the tech executives at any moment; non-disclosure agreements be damned. Hundreds of babies are now being paid for by hundreds of tech executives along with hush-money to keep the names of those babies fathers quiet.

Yes, San Francisco truly is the modern version of Sodom and Gomorrah.
----------------------------------------------------------------------------------

San Francisco accepted Hunters Point shipyard land that may still be radioactive
EPA, state health regulators approved transfer in 2015 despite awareness of fraud allegations
--------------------------------------------------------------------------------------------
SAN FRANCISCO HOUSING MARKET IS GETTING GUTTED AS FACEBOOK CRASHES AND CHINESE RUN AWAY
Housing market showing signs of cracking...

Record Drop in Foreigners Buying...
------------------------------------------------------------------------------------------
SAN FRANCISCO IS NOW THE MOST EXTREME PUBLIC SURVEILLANCE CITIY IN AMERICA
HIPPIE DIPPIES IN SAN FRANCISCO ARE THE MOST SPIED ON IN USA! IRONIC!
Can you imagine a city in the United States secretly creating a Chinese-style public surveillance network that can identify everyone? Can you imagine that same city secretly creating a Chinese-style public watchlisting network?

Well imagine no more because it has already happened.

When I wrote about "covert facial recognition street lights coming to a city near you" last year, I never would have dreamt that my article would become a reality so quickly.
--------------------------------------------------------------------------------------
San Francisco is now POOP CITY as heroin needles, AIDS and corruption again define City
----------------------------------------------------------------------------
( )
--------------------------------------------------------------------------------
SAN FRANCISCO MAYOR LONDON BREED EXEMPLIFIES THE WARPED SEX-BASED CRONYISM OF SAN FRANCISCO CITY HALL
Mayor London Breed exhibited a serious lapse of judgment — and possibly violated city ethics laws — in accepting several thousand dollars worth of car-related expenses from former Public Works Director Mohammed Nuru.
----------------------------------------------------------------------
-----------------------------------------------------------------------------------------------
submitted ago by KosherHiveKicker to politics (+22|-1)
( )
submitted ago by YouKnowItIKnowIt to news (+8|-0)
----------------------------------------------------------------------------------------
San Francisco Has The Most High-Tech Schools In The World But SF Students Are The Biggest Failures In The World
- San Francisco proves, again, that it is all fluff and no substance
- Bottom line: "Don't move to San Francisco if you want your kids to get an education!"
-------------------------------------------------------
San Francisco's housing market is so out of control, most tech workers say they can't afford homes thanks to Google
The San Francisco Bay Area's housing market is so bleak, even tech workers are struggling to buy a home there.
A survey by Blind found that 59% of employees at Bay Area tech companies said they cannot afford homes.
Cisco, eBay, and Intuit had the highest percentage of employees who said home ownership is elusive.
-----------------------------------------------------------
---------------------------------------------------------------------
San Francisco Logs 16,000 Feces Complaints in a Week as San Francisco becomes filled with poop and Google assholes...
( )
by knightwarrior41 to science (+45|-1)
----------------------------------------------------------------
San Francisco Shall Forever Be Known as POOP CITY because of the corrupt politicians and dirty people that live there
( )
by GloriousDestiny to news (+82|-1)
------------------------------------------------------
San Francisco native man charged with sexually assaulting 99-year-old woman in SF Chinatown as Frisco crime spree worsens
A man captured after a New Year's Eve sex assault in San Francisco's Chinatown had attacked a 99-year-old woman in her apartment at the Ping Yuen housing project, officials said Wednesday.
-----------------------------------------------------------------
( )
( )
( )
by Opposed-Forces to news (+181|-1)
--------------------------------------------------------------
San Francisco's Housing and Homeless Crises at "Boiling Point"Because Of Google-Twitter-Facebook Take-over of City Politicians
Written by James Murphy
San Francisco is a city of contrasts. It boasts glorious views of the Golden Gate Bridge and the Pacific Ocean, and it also offers the stench and disgusting sight of piles of human feces on its sidewalks. It is a place filled with great wealth and striking poverty, with tech billionaires and Silicon Valley companies existing alongside an aggressive panhandling homeless population. While a city full of investors waits nervously on a new wave of initial public offerings (IPOs), drug users shoot up in the streets for anyone — be it tourists, businessmen, or schoolchildren — to see.
-------------------------------------------------------------------------------------
SAN FRANCISCO BAY AREA'S MEASURE 3 SEEKS TO CREATE "RAPE" BRIDGE TOOLS IN ORDER TO PUT CRONY CASH IN THE POCKETS OF JERRY BROWN'S FRIENDS
- The Entire Measure 3 Plan Is A Scam To Help Google and Crony Insiders!
On the June 5 ballot, Regional Measure 3 asks voters in nine Bay Area counties to approve a $3 increase in tolls on all the region's bridges but the Golden Gate "to reduce auto and truck traffic, relieve crowding on BART, unclog freeway bottlenecks and improve bus, ferry, BART and commuter rail service." Its supporters, who include the Bay Area Council, the Silicon Valley Leadership Group, SPUR, Facebook, and YIMBY Action, call it "a bold, coordinated, region-wide traffic relief plan."
RM3 is bold all right: it's an audacious con that dedicates $4.5 billion to a hodgepodge of disconnected projects that will bring the Bay Area little traffic relief.
-----------------------------------------------------------------------------------------
The San Francisco Bay Area Tech Mafia
What They Have Been Proven To Be:
Misogynists, Frat Boys, Sexual Abusers, Rapists, Sexual Extortionists, Sexual Harassers, Intellectual Property Thieves, Copy-cats, Monopolists, Valuation Collusion-ists, Hooker Addicts, Trophy Wife Abusers, Tone Deaf Yuppies, Sociopaths, Closet Homosexuals, Elitist Boys Clubbers, Narcissists, Burning Man Orgy Pros, Drug Addicts, Alcoholics, Sex Addicts, Mobsters, Tax Cheats, Abusers, Real Estate Scammers, Liars, Racists, Anti-Trust Violators, Political Bribery Experts, Crony Political, Scam Operators, Election Rigging Financiers
---------------------------------------------------------------------------
NEW SAN FRANCISCO MAYOR SAYS SF IS CONSUMED WITH CRAP
San Fran Mayor Laments Human Poop On Streets: 'More Than Ever Seen'...

CA DEMS REBUKE FEINSTEIN...
--------------------------------------------------------------
The San Francisco Archi-Tastrophe Coming Building Collapses
- Greed and corruption put San Francisco in the current disaster movie scenario
- Over-building on un-stable ground in a small area subject to earthquakes should have been an obvious bad idea to anybody
- San Francisco City Hall chose to cram developer payola in their pockets and lies into the planning process
- Imagine a million tons of steel and concrete collapsing onto hundreds of thousands of commuters!
- One skyscraper will take down the next one in a 'domino effect'
- 18 buildings have started to fail but you have only heard about a handful of them...

https://bloomberg.com/news/articles/2017-02-01/who
--------------------------------------------------------------------------------
The San Francisco ghosts in Kamala Harris past show that she knows how to ****
----------------------------------------------------------------------------------
Was San Francisco Mayor Ed Lee Poisoned, Using Untraceable Spy Technology, Because of His Immigration Scheme?

ARussian agent convicted of spying for Britain was fighting for his life last night amid suspicions he was poisoned in a shopping centre in Wiltshire.

Sergei Skripal, 66, was in intensive care after being exposed to a mysterious substance as he sat on a bench in the centre of Salisbury. A 33-year-old woman who was with him, is also in critical condition. Both had collapsed and were unconscious when they were discovered.
-------------------------------------------------
-----------------------------------------------------
THE DNC'S SAN FRANCISCO SEX CULT OFFERS CLITORAL TOUCHING FOR $150.00


We Went UnderCover With An IPhone In San Francisco And Marin County - The Dark Side of the Orgasmic Meditation Company

Almost every member is a registered Domocrat and some are highly placed in the DNC. OneTaste is pushing its sexuality wellness education toward the mainstream. Some former members say it pushed them into sexual servitude and five-figure debts.
PHOTOGRAPHER: TIMOTHY ARCHIBALD

By Ellen Huet

When Michal got married in August 2015, her family and longtime friends didn't attend. The woman who walked her down the aisle, the dozens of beaming onlookers, her soon-to-be husband—all were people she'd met in the preceding 10 months. Wearing a loose, casual dress borrowed from one of her new friends, Michal spent the ceremony in a daze.

She knew she didn't want to get married like this, in the living room of a rented San Francisco house without her family's support, yet she felt compelled to do it. That uneasy feeling could apply to most of her experiences in OneTaste.

OneTaste is a sexuality-focused wellness education company based in the Bay Area. It's best known for classes on "orgasmic meditation," a trademarked procedure that typically involves a man using a gloved, lubricated fingertip to stroke a woman's clitoris for 15 minutes. For Michal, like those at her wedding, OneTaste was much more than a series of workshops. It was a company that had, in less than a year, gained sway over every aspect of her life.
 
-------------------------------------------------------------------
If You're Going To San Francisco...Think Again
-----------------------------------------------------------
The Bad Decision-Making Of The Drug Fried Minds Of The People That Live In San Francisco
By Karma Harris
The social echo-chamber is a terrible thing.
Like drones, or robots or sheep, the mindless clones in San Francisco seem to be unable to see that they, in their cult-like quest for "individuality" are doing the exact same idiotic thing that every other San Franciscan is doing:
- Getting a giant eagle, crown or flower tattoo on their chest above their boobs
- Wearing a Fedora hat
- Growing a handle-bar mustache or stupid-looking Amish beard
- Making their clothes look like they accidentally exposed their look-at-me desperation tattoo
- Taking pictures of themselves making idiotic duck lips
- Wearing a plaid shirt
- Being obese and wearing a belly shirt
- Being obese and wearing a tube top
- Being obese and wearing Betty Boop make-up
- Thinking that heroin makes you look cool
- Study an "Art Career" at a commercial "Institute" your rich sucker parents pay you to smoke pot at
- Being a grown-up who uses a skate-board or push scooter
- Wearing a spandex T-Shirt and pursing your lips because you want to be gay and "with it"
- Using the phrase "sociability nexus" or any other Tech BS-speak
- Worshiping Google
- Wearing all black at night because nobody else thought of that
- Thinking that your "pot cafe" idea is original, unique and will last more than 3 months
- Paying tens times more for food because it has tofu hidden in it
- Blindly mouthing any party line pretext that Nancy Pelosi tells them to
- Getting scabies every weekend at the 1050 Folsom night-club
- Tweeting as if anything you do matters to anybody
- Hiding your mental illness by saying and dressing "gender fluid"-like
- Getting a pack of tattoos that proudly announce your bad decision making
- Getting a pack of tattoos that proudly announce you are a slut
- Owning a fluorescent colored bicycle
- Creating a start-up that sells nothing that anybody actually needs or wants but has an ironic name
- Talking about "Burning Man" with any other sense than shame
- Going to a "TED Conference" without realizing you are a douche bag
- Using Match.com to get free dinners
- Having no ability whatsoever to consider the consequences of your actions
- Not seeing that the SF Board of Supes are all elitist stock market inside traders abusing the City
- Having six room-mates
- Pooping in the street because you embrace the "multi-cultural experience"
- Having no clue how the real world works
- Being a woman at Stanford University without knowing the Frats just see you as a baby oven
- Being a white yuppie guy with a Chinese girlfriend who doesn't not realize what the real deal is
- Not knowing why you feel you NEED to go to Starbucks
HOT LINKS FOR INFORMATION UPDATES:
https://stopelonfromfailingagain.com
https://fusion4freedom.com/about-gcf/
https://fusion4freedom.com/the-green-corruption-files-archive/
https://www.allsides.com/unbiased-balanced-news
http://ec.europa.eu/anti_fraud/index_en.html
http://www.interpol.int/Crime-areas/Corruption/Corruption
http://www.traceinternational.org/
https://anticorruptionact.org/
http://www.anticorruptionintl.org/
http://www.giaccentre.org/dealing_with_corruption.php
https://www.oas.org/juridico/english/FightCur.html
https://www.opus.com/international-anti-corruption-day-businesses/
https://www.opengovpartnership.org/theme/anti-corruption
https://www.ethicalsystems.org/content/corruption
https://sunlightfoundation.com/
http://www.googletransparencyproject.org/
https://en.wikipedia.org/wiki/Angelgate
https://en.wikipedia.org/wiki/High-Tech_Employee_Antitrust_Litigation
http://www.projectveritasaction.com

Catch and Kill By Ronan Farrow, https://en.wikipedia.org/wiki/Catch_and_Kill:_Lies,_Spies,_and_a_Conspiracy_to_Protect_Predators
Permanent Record

By Edward Snowden, https://www.amazon.com/Permanent-Record-Edward-Snowden/dp/1250237238
Brotopia

By Emily Chang, http://brotopiabook.com/
Throw Them All Out

By Peter Schweizer, http://peterschweizer.com/books/throw-them-all-out/
The Circle

By David Eggers, https://archive.org/details/circle00dave
World Without Mind

By Franklin Foer, https://www.amazon.com/World-Without-Mind-Existential-Threat/dp/1101981113
Chaos Monkeys

By Antonio García Martínez

, https://www.antoniogarciamartinez.com/chaos-monkeys/
The Creepy Line

By Matthew Taylor

, https://www.thecreepyline.com/
The Cleantech Crash

By Leslie Stahl, https://www.cbsnews.com/news/cleantech-crash-60-minutes/
Congress: Trading stock

By Steve Kroft, https://www.cbsnews.com/news/congress-trading-stock-on-inside-information/
San Francisco Oligarchs, Elitists And Gatekeepers:
If you don't pay an homage to these people, you get black-listed!

Janet Reilly

Clint Reilly

Ed Lee

John Molinari

Roger Boas

Dick Blum

Vinod Khosla

Anybody named Haas

Charlotte Maillard

Ed Shultz

Henry Kissinger

Will Hearst

Nancy Pelosi

Dianne Feinstein

Kathryn Feinstein

Scott Weiner

Darcy Brown

Stewart Brand

Joseph Costello

Carl Livingston

Henry Adams

Wally McCormick

Bob McKeen

Jean Bricker

Richard Thieriot

Wilkes Bashford

James Bronkema

Roger Boas

William Ball

Gordon Bellis

Frances Bowers

Donna Casey

Gretchen Cebrian

Tina Cella

Lawrence Chickering

Sheldon Cooper

Charles Crocker

Edwin Cutler

Myron Du Bain

Coburn Everdell

Donna Ewald

John Gamble

William Gaylord

Richard Graff

Reid Hoffman

Ann Getty

Anthony Hale

Matilda Kunin

Wendy Linka

Mary Moulton

William Newsom

John Owsley

Bokkara Patterson

Juan Reynal

Steven Swig

Charles Thieriot

Wilfred Von Bulow

Michael Whitman

Brayton Wilbur

Rita Barela

John Brunelle

John Calori

William Coblentz

Joseph V. Costello

John Diefenbach

Myron Dubain

Frank Woods

Mort Feld

T. Jack Foster Jr

Gordon P Getty

James Gilleran

John Goy

Evie Haas

Bryan Hemming

John Jacobs

Fritz Jewett

Ray Jones

George Keller

Art Kern

Bob Lansdon

Arthur Latno

Robert Leefeldt

Bob Lurie

Malcom MacDonald

Dan McCall

Wallace McCormack

Rich Miller

Elizabeth Pfau

Forette Pomeroy

David Ringler

Hadley Roff

Norman Rosenblatt

Albert Schlesinger

Steven L. Swig